e-detail Prezenter PSR dual-tablet presentation tool gets price-tag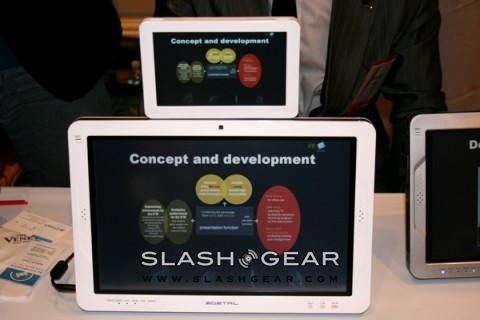 We weren't expecting much in the way of a release from e-detail, despite them showing the Prezenter PSR dual-display Tablet PC at CES earlier on in the year.  The concept is that you have a large screen which faces your audience and a poseable 7-inch mini-touchscreen that flips down at the back to let you follow along with your notes.  Now, according to Crave Asia, e-detail claim to be going through trials with the Prezenter PSR, in line for an eventual US and European release.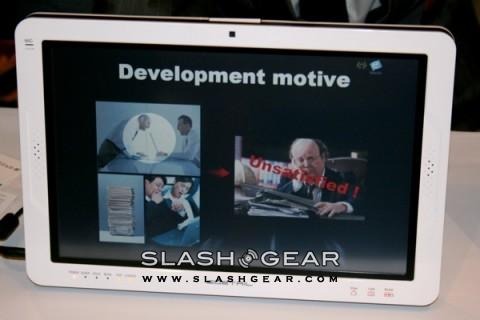 Grunt is via an AMD Geode LX800 coupled with 512MB of RAM.  There's also an 80GB hard-drive, built-in 1.3-megapixel webcam and stereo speakers, kick-stand and WiFi b/g and gigabit ethernet connectivity.  The Prezenter PSR runs Windows XP Home, which is probably a good thing given the modest spec sheet, and e-detail claim 3.5hrs of use on a single charge.
It's an interesting proposition – many people don't realise how handy PowerPoint can be with a tablet interface, drawing and writing on the slides to illustrate what you're saying – but they may have a hurdle with the price.  e-detail have set the MRSP at $1,800, seemingly making this an unjustifiable niche item for all but the very dedicated presenter.