E-Cigarette Vaping EVALI lung injury and death count update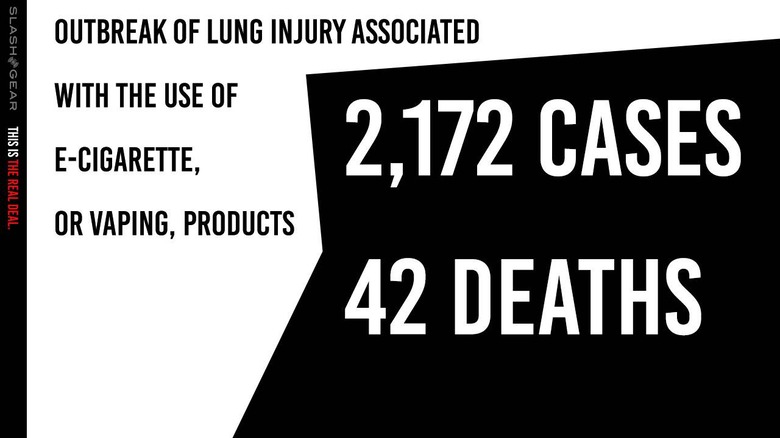 We've been following the outbreak of lung injury associated with the use of e-cigarettes (vaping) since early August. On September 19, 2019, the FDA opened a criminal probe into the vaping-related lung injury outbreak, while the CDC's then-current case count was 530 people – this count has gone up considerably since then.
Back in August, the Department of Health Services in Wisconsin issued a a statement on vaping devices warning of links to "severe lung disease". August 9th, the Illinois Department of Health issued a similar statement – on August 13, another statement was made in Minnesota. Take a peek at the first comprehensive report we did on the situation as it started to gain nationwide attention.
By September 6th, the CDC reported the third death related to lung conditions stemming from the use of e-cigarettes. At that time, their count was up to 450 cases of serious lung condition, with reports across 33 states in North America. By October 10th, more than two dozen deaths were counted amongst 1,200 cases in the United States.
On October 14th, the CDC named the vaping lung injury EVALI and offered precise case numbers. Since then, the CDC's counts for both serious lung conditions from e-cigarettes or vaping products has risen to 2,172 (this is as of November 13, 2019).
These counts are from 49 states (all except Alaska), the District of Columbia, and 2 U.S. territories (Puerto Rico and U.S. Virgin Islands). Also as of November 13, 2019, 42 deaths have been confirmed in 24 states and the District of Columbia. The official CDC update page for this outbreak can be shared at will with your friends and family right this minute.
The most recent study numbers from the CDC as of October 15, 2019 show results from among 867 patients with information on substances used in e-cigarette, or vaping, products in the 3 months prior to symptom onset. From those patients, about 86% reported using THC-containing products; 34% reported exclusive use of THC-containing products. About 64% reported using nicotine-containing products; 11% reported exclusive use of nicotine-containing products. Stick around for more updates!