Dyson Air Multiplier knock off surfaces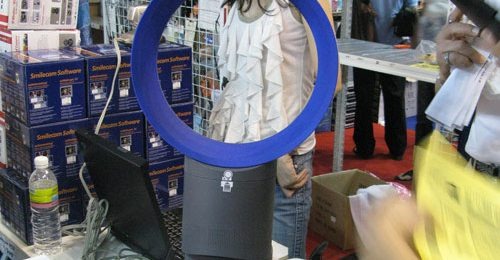 In October of 2009 Dyson, the guy famous for new vacuums pulled the wraps off a new fan that has no blades called the Air Multiplier. The fan was cool and all, but the thing was very expensive with a smaller desktop version of the fan selling for $299.
That is a lot of scratch for a fan and I bet there were many folks that liked the idea of the bladeless fan, but wished it were cheaper. A knock off of the Air Multiplier has surfaced made by an Asian company called Abiko. The fan was on display at the Comex 2010 booth the company had.
The Abiko fan looks almost just like the Dyson offering with a different style intake vent and the lack of the Dyson logo being the only major visuals differences between the two. The Abiko fan is not that much cheaper though at $223. CNET News reports that the Abiko knock off can be found for about $50 each at wholesale. I might pay $50 for one, but at $223 they can keep it.