Dynamic Lamp saves energy with spinning power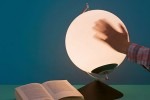 If you're looking for a greener lighting option, then you'll be pleased to hear that this lamp is powered up just by you spinning it. Sure, we've all seen the crank-powered sort of lamps before, but this one takes a different approach.
The lamp itself is in the shape of a globe. It shines brightly and adds a nice accent lighting to the space. And in order to power it up, you just need to spin the globe around. There's nothing different from this than a regular globe, except for the illumination factor.
Now, we don't know how much you need to spin it for a certain amount of light, but this does have promise. While just a concept at this point in time, there is a working prototype out there. So, we'll have to wait and see if this lamp reaches mass production, but until then, we can all enviously stare at the photo.
[via Coolest Gadgets]