Duracell Smart Power Products Review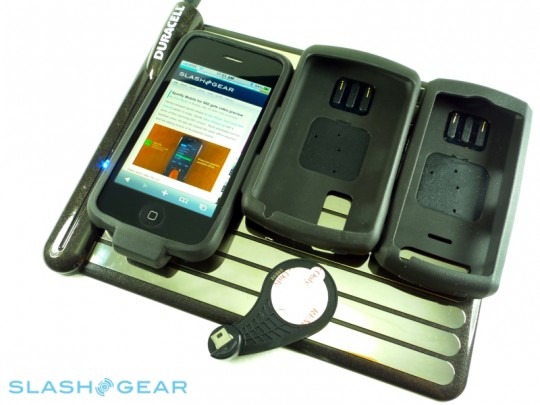 There's still some way to go before we can recharge our gadgets while they're still in our pockets, but if the thought of plugging in your iPhone pains you then Duracell's Smart Power system may go some way in helping. Based on a conductive charging pad which demands only that you sit a gadget on top in order to rejuice it, Duracell claim it's a new stab at freedom from the regular grid; SlashGear cleared some desk-space to find out whether that was true.
If the Duracell Smart Power kit looks familiar, then it's probably because you've seen WildCharge's conductive charging system. Duracell have seemingly licensed the WildCharge setup – which uses a base-station pad laced with power strips, and a selection of cases and adapters with studded contacts – and thrown in not only a selection of device-specific "Power Sleeve" cases (or "skins" as WildCharge calls them) but a few extra things that better align with the company's own range.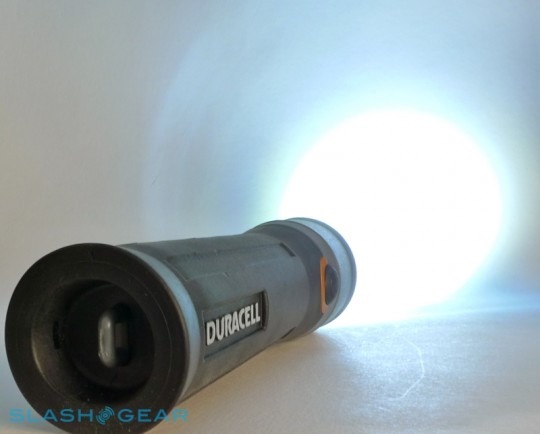 These include a conductive-charging flashlight, a rechargeable battery charger and a number of portable power packs that can be used to top up standard NiMH cells, phones and PMPs. Most of these come with a USB to mini-USB adapter. Meanwhile there are the same Power Clip adapters – which bridge the conductive charger to the power port of BlackBerry, Motorola and Nokia phones, together with anything that hooks up via USB or mini-USB – and cases for the iPhone 3G/3GS, iPod touch 2G, BlackBerry Curve 8300 and Pearl 8100 smartphones.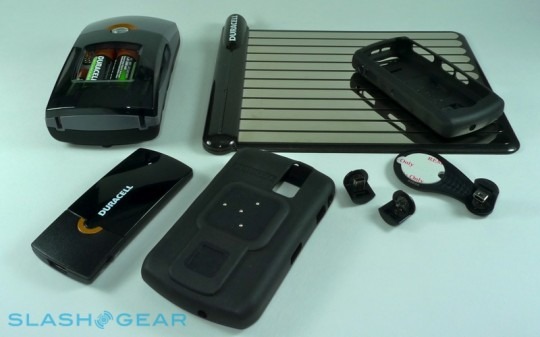 One instant frustration is the lack of a micro-USB adapter anywhere in the box. With many manufacturers not only making the switch from proprietary connectors to USB, but to micro-USB specifically for its compact size, it seems strange that Duracell have made mini-USB their smallest plug. It's nothing an adapter can't address, but if you've picked up the myGrid starter kit for $79.99 it would be nice if it were compatible with a pretty mainstream port from the get-go.
Otherwise, the system works pretty much as we expected from our time with the WildCharge pad. Phones in the Power Sleeve or hooked up to a compact Power Clip attachment charged just as they would if using their regular, wired adapter, only without needing to do anything but drop them – studded contacts down – onto the myGrid base. You can charge as many devices simultaneously as you can feasibly fit onto that base, and we found no real disparity in how long our test phones took on the myGrid versus the wired route.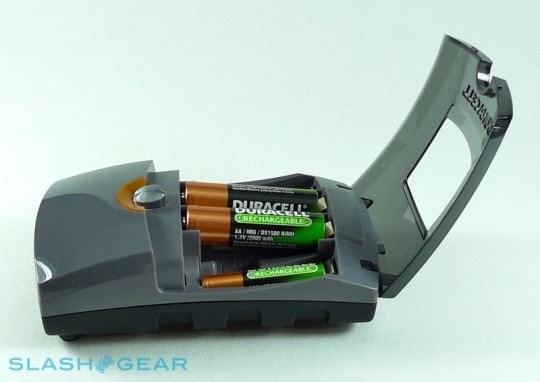 Duracell also threw in a couple of their other power products, which either charge up standard AA or AAA NiMH batteries, or supply juice directly from their own internal power-pack. Duracell supplied us with the Instant Charger ($29.99), a slim candybar-sized Li-Ion battery (that unfortunately doesn't charge from the myGrid base) that offers up to 35hrs of top-up power to any mobile device with a USB or mini-USB connector, but they also offer the Pocket Charger ($19.99), an even smaller version with a flip-out mini-USB connector intended to add up to 60-percent more talktime to a cellphone, and the Powerhouse Charger ($49.99), a bigger external battery.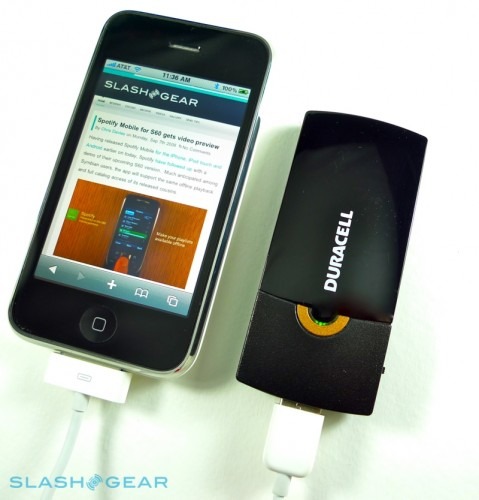 They also sent us the GoMobile ($29.99), an AA/AAA NiMH charger that takes up to four batteries at once; there are also four batteries in the pack. A smaller version, the GoEasy ($12.99), is also on offer, which takes two batteries at a time. Finally, they threw in an LED flashlight for us to test out the batteries, which worked as you'd expect an LED flashlight to do.
Perhaps the biggest complement for the Duracell system is that it's easy to forget you're using it. Dropping your device onto the charging pad is certainly quicker than fiddling with a cable, especially when you're using one of the more integrated kits such as the iPhone 3GS case. The Power Clips – though useful in that they add myGrid compatibility with a far larger range of gadgets – are a less aesthetically pleasing solution, especially if the limited articulation of the connector – it rotates, but doesn't bend or flex – means the conductive charge section won't sit flat against whichever device you're using it with.
Meanwhile the battery charger and the external power pack are no different from their non-Duracell counterparts, at least in terms of general use. It would be handy to be able to top up the Instant Charger from the same base station as your smartphone, though we can't really say the same for the battery charger.  After all, with a footprint around the size of an iPhone it occupies a fair chunk of space and does just as well with a standard AC plug.
In the end, we feel the same about Duracell's myGrid conductive charging system as we do WildCharge's; namely, that we want to see far more device-specific cases on offer. The Power Clips do the job, certainly, but they lack finesse and feel like a workaround in order to tick compatibility boxes. As for the rechargeable booster batteries, as anybody who has cursed their iPhone for prematurely expiring after a particularly heavy day's use will know, sometimes a shot of external juice feels heaven-sent. It's worth noting, though, that the included USB and mini-USB connectors with the three booster batteries won't be enough to hook up to your Apple device without another adapter.
A gimmick, then, but a potentially useful one. We assume Duracell are waiting on WildCharge to produce cases for a broader range of devices; if you're an iPhone or iPod touch user (or a Pearl/Curve owner, for that matter) and you constantly forget to plug in your device, then the myGrid may be your salvation. Considering the $34.99 price for the Power Clips and adapters, though, anyone else could do well to wait for a dedicated rather than workaround option.