Dude builds Air Drums that actually play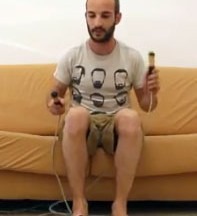 I really like to see the cool hacks and projects that people come up with using Arduino. We have seen everything from robots to this set of air drums using the Arduino system for control. The DIY guy behind this cool project is Maayan Migdal and he used Arduino and a MIDI device. The drumstick you see in the guys hands are section of wood cut from a garden rake.
Each of the sticks has a USB port and an accelerometer as well. The stick in the left hand is for the hi-hat and the right stick has two modules that allow it to work for the snare drum and crash cymbals. The person also took care of the bass with air foot pedals using some hacked flip-flops.
The flip-flops have a pair of sensors inside with the left foot handling the bass drum and the right has a light sensor for the hi-hat pedal. This set up is really cool. Check out the video below to see the system in action. This thing sort of reminds me of the Korg Wavedrum we saw back in April.
[via TechCrunch]