Dubai police to get a Tesla Cybertruck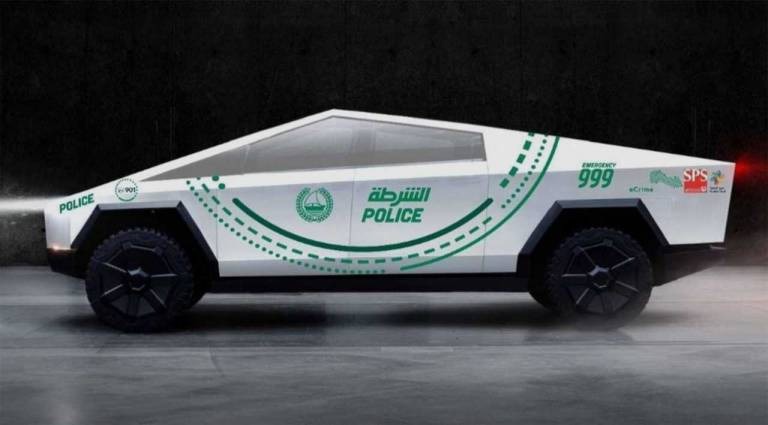 When it comes to having the coolest fleet of police vehicles in the world, the Dubai Police take the cake. Dubai counts amongst its patrol fleet incredible supercars like the Porsche 918 Spyder, Bugatti Veyron, Aston Martin One-77, and a Roush Ford Mustang. Other rides include a Lamborghini Aventador, Audi R8, and more.The Dubai Police has announced that their next exotic patrol car won't be a car at all. The next vehicle added to the Dubai police fleet will be the rather hideous looking Tesla Cybertruck. The announcement that it would be adding a Cybertruck came via Twitter.
Cybertruck is years from production, and while the tweet from the Dubai Police says it will add the ride to the fleet in 2020, Tesla isn't set to get the EV into production until late 2021 with construction set to start at the end of 2022 for the tri-motor version.
The Cybertruck will patrol in areas where there are lots of tourists, according to Dubai Police Major General Abdullah Khalifa Marri. At best, all the department could have done at this point is plunk for the $100 reservation price and home to configure the truck down the road.
شرطة دبي – 2020 – Dubai Police #CyberTruck pic.twitter.com/V9rMPLgjS4

— Dubai Policeشرطة دبي (@DubaiPoliceHQ) November 26, 2019
As for the version the department ordered, there is no word. We assume that a police department with a Bugatti, Porsche, and Lamborghini patrol cars would order the high-end tri-motor Cybertruck. That version has 500 miles of range and claims 0-60 mph in 2.9 seconds. The department has also announced that it would be buying a Mercedes-AMG GT 63 S. Tesla has bragged that 250,000 deposits have been put down on the Cybertruck.