Dual Quad-Core On Mac Pro - 8 Cores Drop-in Upgrade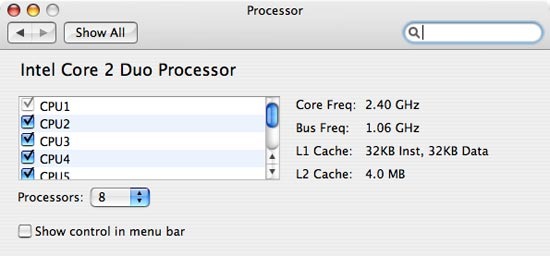 If you are lucky enough like the folks at AnandTech, you will be able to enjoy the 8 cores Mac Pro. They received a pair of 2.4Ghz Clovertown engineering sample and put them into a Mac Pro. Clovertown is Intel's upcoming quad core CPU, so putting two of them into the Mac Pro gives you 8 cores machine.
Apparently those Clovertown goodies works on the current Mac Pro just as a drop-in upgrades.
"We ran a handful of stability tests on the Mac Pro equipped with two Clovertowns and didn't encounter any crashes with the processors, so it would seem that Clovertown will work in the Mac Pro's motherboard. We can't say with 100% certainty that you will be able to upgrade to Clovertown when it comes out, but so far the results are looking good."
Apple's Mac Pro – Upgrading CPUs, Memory & Running XP [via anandtech]