Dual-Core Samsung Galaxy 2 I9100 And Sony Ericsson ANZU Get Field Feedback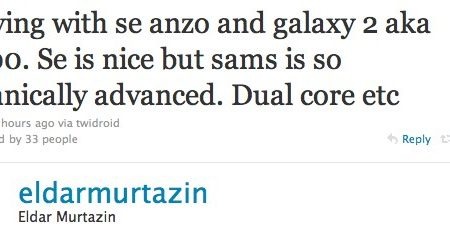 Some people walk the dog, drink coffee and read the paper at the weekend; others, like mobile-review's Eldar Murtazin, spend their time playing with early examples of pre-release smartphones. According to the notorious tipster, he's spent at least part of the weekend with the Sony Ericsson ANZU and the Samsung Galaxy 2 GT-i9100, the latter of which packs a potent dual-core processor.
The exact nature of that processor is unknown – we'd love to see Samsung's Cortex A9 "Orion" already in devices, but the timing seems unlikely – but it helps make the Galaxy 2 "so technically advanced" in Murtazin's eyes. The Samsung also apparently has the better display (we're guessing Super AMOLED) though the ANZU panel supposedly isn't bad. It's unclear at this stage what relation the Galaxy 2 has to the Google Nexus S.
Unfortunately, the ANZU generally doesn't get such great feedback as the Galaxy 2, with Murtazin decrying rumors that the Android handset is to be the new "flagship" device. "It isn't better than [the] Desire HD" he says; the hardware is "almost the same" but while the HTC is on sale now, the ANZU isn't expected until March 2011 for the same price.
[via Android Community]