Dropcam HD Review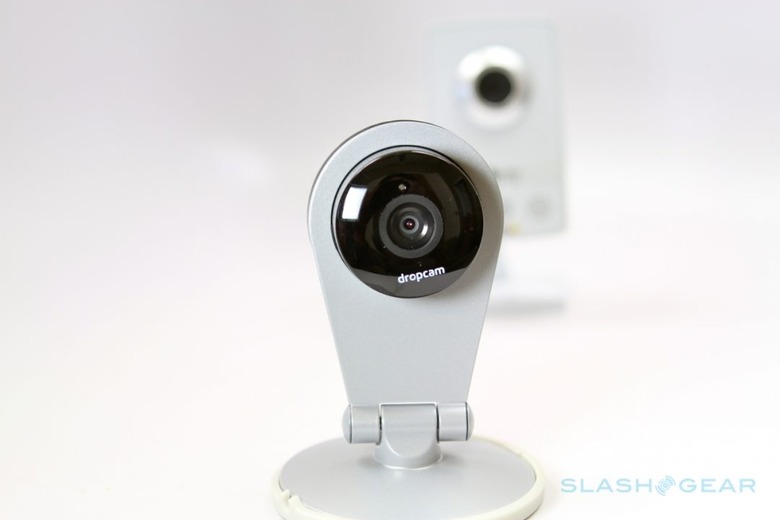 Webcams aren't new, and WiFi isn't new, but it's taken a while for WiFi-enabled video streaming cameras to come down to a level where remote home surveillance is reasonably affordable. Dropcam's second-gen offering, the Dropcam HD, is a compact webcam with integrated wireless network connectivity, together with a suite of online and smartphone apps that all link up with the company's cloud-based backbone. We've been under the watchful eye of the Dropcam HD; check out the full SlashGear review after the cut.
Hardware
Dropcam's is rightly proud of the HD: its first-gen hardware, the Echo, was designed externally, but the company brought development in-house for this new model. The end result is something that looks far more consumer-friendly than the blocky white Echo. The Dropcam HD itself is a small glossy black puck that slots into a detachable metal stand with a posable base: together, they're 4.5-inches high and about 3.15-inches across.
The hinged base is stiff enough to stay at whatever angle you set it to, and you can tilt the Dropcam HD itself in the stand to fine-tune things. Power is courtesy of a compact AC brick with a long microUSB cable up to the camera itself; unlike the previous Dropcam models, there's no ethernet option, only WiFi b/g/n, though that's no great loss for the consumer market. A rubber foot for the stand has a clip to keep the power cable in place.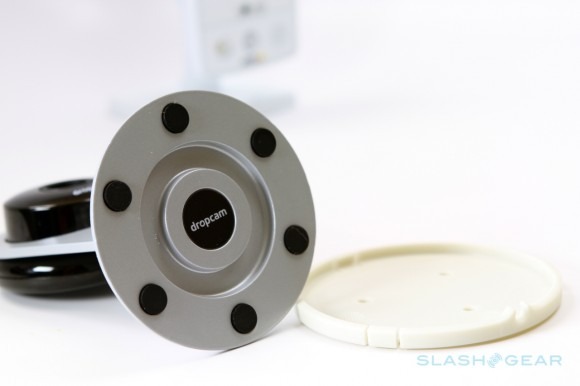 Setup requires plugging the Dropcam HD into your computer via USB, creating an account through Dropcam's site and punching in your WiFi network credentials. After that, it automatically logs on overtime it's powered up. There's a 12-LED infrared light array around the lens, for nighttime use, along with a speaker and a microphone.
Service
Part of the easy setup of the Dropcam Echo is the absence of any local software to install: everything is accessed – and stored – in the cloud. The company offer several tiers of service: the free "Basic" package allows you to log in and view live streaming video, either through the regular browser or the iOS app, but no recording functionality. There are also email and mobile (iPhone-only) alerts triggered by the sound and motion sensors. For $9.95 per month and the "Plus" package you get live streaming together with seven days of archive access (and the ability to download select clips or photos to your own computer).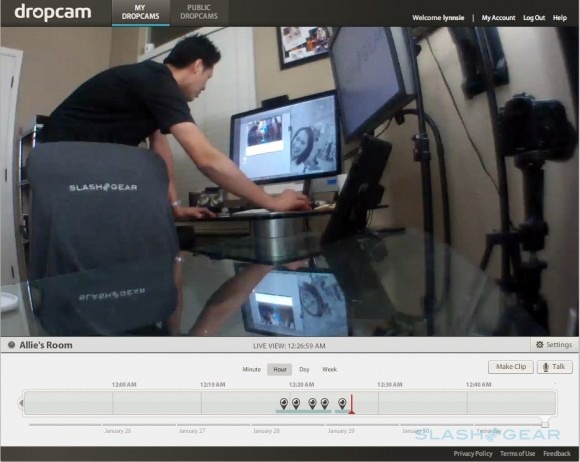 Finally, the "Pro" plan offers 30 days of online recording for $29.95. It's worth noting that the subscription fees increase per camera you add: $4.95 per extra for the Plus plan or $14.95 per month for the Pro plan. If you have, say, three cameras and want a month's historic access to the footage each records, you're looking at almost $60 per month. The Android and iPhone apps themselves are free and work with all tiers of service, though there's no iPad-specific version. If you have a device with Flash support in the browser, you can log into the Dropcam site and stream video that way instead.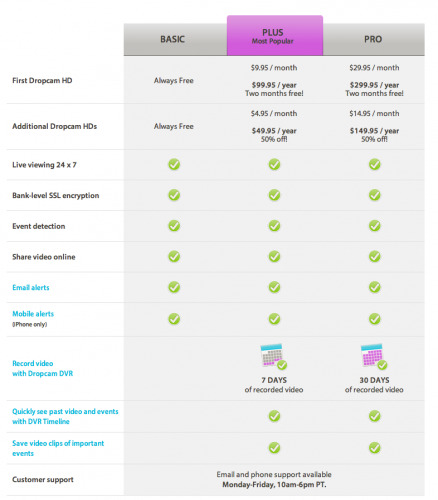 Performance
Where the original Dropcam was limited to QVGA 320 x 240 resolution video, and only offered streaming two-way audio on a more expensive model, the Dropcam HD promises both 720p HD footage and sound as standard.
[vms 8d53194fb1a8446ae07f]
Unfortunately video quality is only average, suffering particularly in low-light, though it's reasonably smooth thanks to the 30fps refresh rate. Audio quality is fair, and the microphone is actually quite sensitive, though we noticed a significant amount of crackling both through the desktop UI and the mobile apps. The speaker – used for two-way audio – is small and subsequently suffers very low volume, and there's no audio output for plugging in a more vocal system. With observed a roughly 2-3 second delay on audio.
Desktop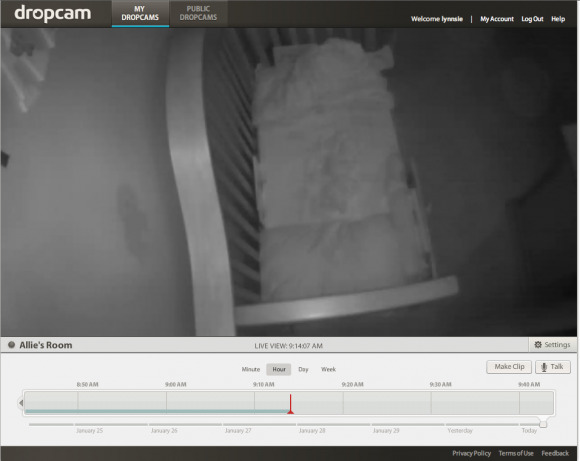 iPhone 4S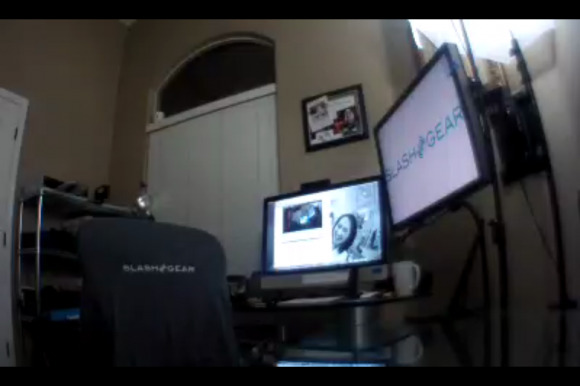 Galaxy Nexus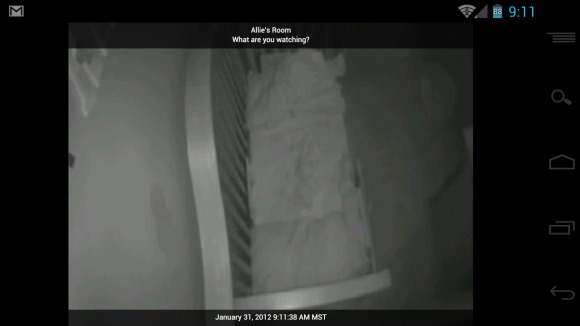 Motion and audio detection are both very sensitive, and lack controls to adjust exactly what they'll respond to. Each will mark the online timeline (in the Plus and Pro subscription packages) to indicate when noise or movement was spotted; both packages, plus the Free plan, can optionally send out an alert to let you know something has happened. Their effectiveness is generally down to where the camera is positioned, and if you have pets you can expect plenty of false alarms.
Still, the automatic flagging makes reviewing footage a lot more straightforward than scrubbing through the entire timeline, and you can request a download clip of any section that comes through in MP4 format with audio.
Wrap-Up
Setup, convenience and – if you opt for a subscription – functionality can't be criticized in the Dropcam HD. The camera is compact, discrete and easy to place, especially if you use only the puck central section, which blends reasonably well into the shadows, and the desktop UI and mobile apps are straightforward to use.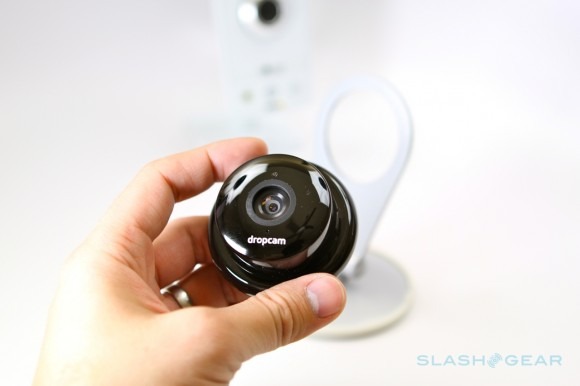 Although the subscription-free option is welcome, we can't really recommend it for any but the most casual of users. Even with the real-time movement alerts, you'll probably struggle to access the webcam feed quickly enough to see what has been happening; that's when the online DVR feature comes in most useful.
That said, the $149 starting price for the Dropcam HD is just that: a starting figure after which you have to take into account subscription fees. Dropcam offers a year's access to the Plus plan for $99.95 if you pay upfront; still, scale up to a few cameras spread about the house, as many home surveillance enthusiasts would prefer, and you're looking at a few hundred dollars each year. Contrast that with Logitech's Alert camera system, which offers local DVR-style storage on your home network (and premium remote access to recordings for $80 per year, per system).
The Dropcam service is certainly easy to use, and there are handy sharing features, which allow you to send clips and images to others – great for showing grandparents what the baby is up to – but it's an expensive way of doing things. In the end, you pay for the privilege of Dropcam's simplicity.