Dropbox's New Online Interface Is Faster And Easier To Use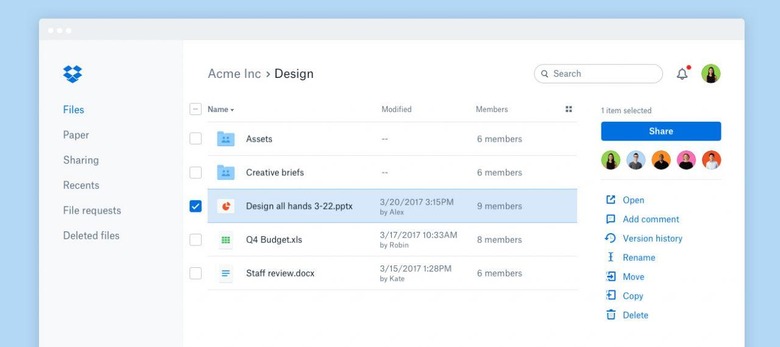 Dropbox has introduced a new online interface that makes its service both easier and faster to use, according to the company. Those who access their cloud-stored data via the Dropbox.com domain will find a cleaner, neater design that makes files and Paper easier to access, as well as prominently placed actions like viewing a document's version history or adding a comment to something. The new interface began rolling out yesterday.
The redesigned interface is very intuitive, in that the options change and are presented based on what you're currently doing. Select a document, and the sidebar presents a list of options related to that document, such as moving it, renaming or deleting it, opening it, copying, or adding a comment. There's also a Share button prominently displayed for easily sharing the file.
Files can be browed as thumbnails online, and anyone who is collaborating on the document is shown. Users can search for content, as well, and it'll return results from both Paper and the Dropbox files. The left-side menu offers quick access to any file requests from members, as well as files that have been deleted, shared, and recently accessed.
Dropbox says its new interface also offers a clearer distinction between your work and personal accounts, easing the toggling process between the two. If you're in your personal account, for example, you won't see any notifications related to your work account and vice-versa. There's also a new admin console, says Dropbox, making its easier for admins to manage a team using the platform.
SOURCE: Dropbox Blog