Dropbox update improves collaboration with badges, commenting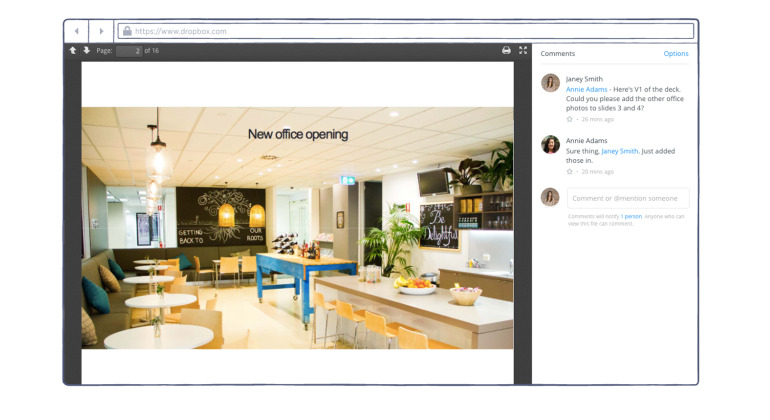 Dropbox has updated its service today, and it has done so with a focus on collaboration in particular, namely how it can make that shared experience better for its users. Dropbox for Business can be used to take Dropbox beyond mere file storing and can be used by workers as a collaborative environment for handling documents and such. If collaborative environments aren't clear and organized, however, they become messy and convoluted quickly, and Dropbox has taken a step to ensure that doesn't happen with two new workflows.
Dropbox's early access program is scoring a new commenting feature, which allows users on a shared file to have a conversation related to the document right where it is most convenient. The commenting feature is available the desktop and through the iOS app, and soon it'll also be available through the Android app. The comments, as you can see in the image above, are on the right-hand sidebar, a familiar arrangement to those who Facebook or Instagram or many similar services.
The comments include some necessary collaboration features like "@mentions" for specifically drawing the attention of a user, who will on their end get both email and mobile alerts when they're mentioned. Those who are interested in this feature in particular will need to be signed up for Dropbox's early access program, however, which will be opening up with the commenting feature "in the next week".
Joining that feature are new badges, which were first introduced to the early access users back in December. With this, all of the company's business users can enjoy the feature, which provides a badge for seeing who is looking at or editing a file, get a quick link for sharing the document, and check for the latest revision of a document.
SOURCE: Dropbox Blog