Dropbox Transfer Now Lets Anyone Send Large Files And Videos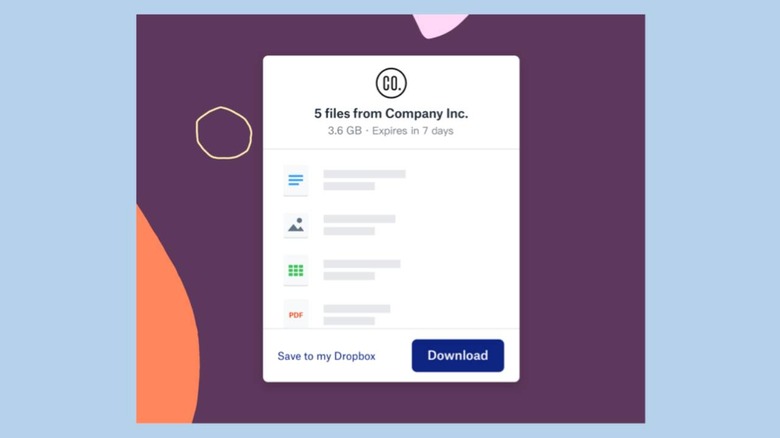 Dropbox has opened its file-transfer service to all users, offering a competitor to popular alternatives like WeTransfer. With Dropbox Transfer, anyone can send large files to someone else directly from one's hard drive or Dropbox account, including videos, photo assets, documents, and more. Dropbox is offering a generous transfer size limitation, making its new service very appealing.
The idea behind online file transferring services is simple — directly sending large files to someone who is located outside your network is tricky. In many cases, users must upload the content to a cloud storage service like Dropbox or Google Drive, enable sharing for the content, then send a link to the recipient for them to directly download.
Sometimes, though, this isn't an appealing option; maybe you don't want that person to have access to the originals, for example, and uploading duplicates to your cloud account risks messing things up. In these cases, users have largely turned to options like WeTransfer, which only requires the user to upload the content and enter the recipient's email address.
Dropbox Transfer allows users to send up to 100GB of files; there's the option to password protect the content and to set an expiration date after which point the content will no longer be available to download. The link to the content can be sent to and accessed by anyone, including people who don't have a Dropbox account.
Users are given a dashboard through which they can monitor how many times the link has been accessed and the content has been downloaded. Transfers can be initiated from desktop or mobile and they can be accessed on desktop and iOS. Users are also given the option of customizing the logo and background that users see when they open the link, which is particularly useful for companies and freelancers.
All Dropbox users will get access to Dropbox Transfer starting today.