Dropbox for Android gets design update, new features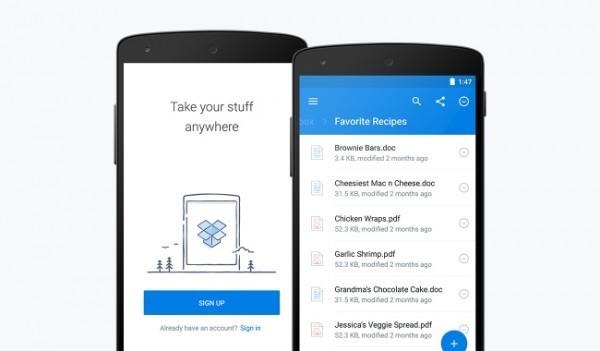 Dropbox for Android has received an update that focuses on the app's design and boosts its usability, the company has announced. Dropbox says there are new features in addition to the updated design, and included among them is the addition of a "plus" button for snapping a photo (among other things) and putting it straight into a folder, improvements to tools for finding files on the service, changes to file sharing controls, and more. The update is rolling out to users now.
The update brings Dropbox's design more in line with modern Android standards, and is both straight forward and sharp. First among the changes is the addition of a "plus" button, which allows one to navigate within the folder where they want to store content and then add via "+" what they want to put in it — including going to the camera to snap a picture.
At the top of the menu on the right side is a new Search icon (magnifying glass), as well, which makes it easier to find content — it can also be used to search for queries inside of documents. To go through the folders, one merely needs to swipe right and left now.
Finally, there are those aforementioned sharing controls and file actions, which have been aggregated into the same place in the app — this makes it easier to perform an action regardless of where you are within the app. The controls are stored in the Info Pane, and include some additions like who is part of a shared folder and where folders are located.
SOURCE: Dropbox Blog