Droid Incredible Review (vs. Nexus One vs. Moto Droid)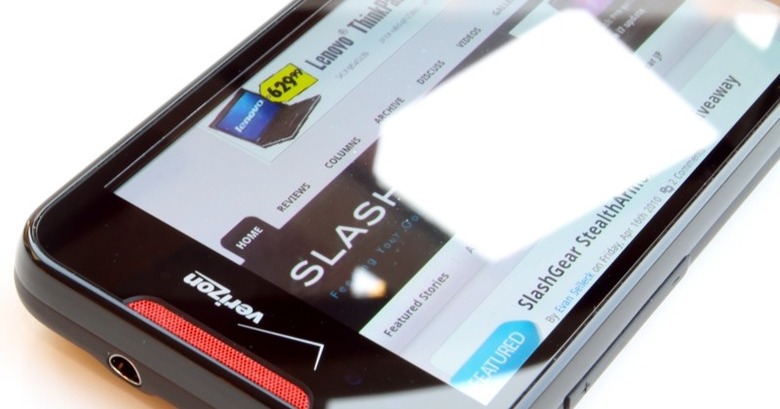 Incredible, they call it, and for once the marketing hyperbole may be right. The Verizon Droid Incredible by HTC takes a somewhat familiar spec sheet and squeezes out something different enough to stand out from the crowd. For our full review of the Droid Incredible, check out our dedicated Android Community coverage; if you're more interested in how this shiny new smartphone fits into the current Android line-up – and, more importantly, whether you should choose it or a rival device – then read on.
The Snapdragon chipset has seen plenty of use in recent HTC devices – the Nexus One and the Desire, if you're limiting things to Android – as has the 3.7-inch OLED WVGA display. Previous phones have had EVDO Rev.A, too, and WiFi, Bluetooth and GPS are par for the course too. Where things improve are in the optics and the internal storage: the Incredible will be the first HTC device to ship with an 8-megapixel autofocus camera, and it's paired with a healthy 8GB of onboard storage.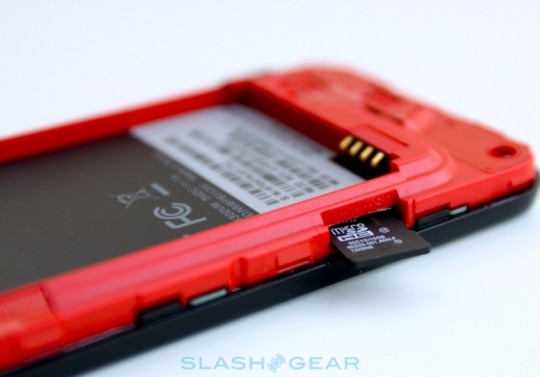 What's interesting is that we're expecting Google's CDMA Nexus One to arrive imminently, and the most obvious difference between the two will be HTC's use of their home-grown Sense UI. Initially limited to T-Mobile USA, now also on AT&T, the Nexus One runs the bare Android 2.1 OS, and while it's a more attractive, usable proposition than earlier iterations of the platform, it's still nowhere near as intuitive out of the box as Sense makes things. As well as adding an extra two panes to the homescreen, Sense packs a preloaded Twitter client in the shape of HTC Peep, Flickr and Facebook integration, and a Friend Stream app which pulls all your contacts social network updates into a single timeline (complete with a desktop widget and the ability to update one or more of your own profiles with just a few taps).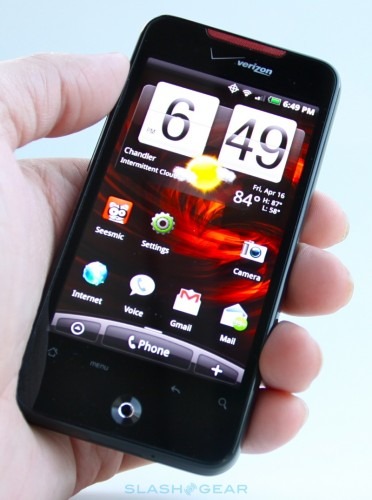 More surprising is a noticeable improvement in touchscreen quality when you have both devices side by side. We're not sure exactly what HTC have done with the Droid Incredible's capacitive layer, but it's both more accurate and less likely to miss taps than that of the Nexus One. Many Google phone users have complained of patchy touch response, something we've not encountered on this newer handset. The Incredible also has a broader brightness range than the Nexus One, particularly at its lower settings.
The Droid Incredible's main competitor on Verizon is likely to be the Motorola DROID (review on SlashGear). It's a testament to Motorola's ambitious design that, while the DROID has been on sale for several months now, it's still a viable option among newer devices. Like the Incredible it has a 3.7-inch display (running at the slightly higher 854 x 480 resolution) but the Motorola uses a more traditional LCD panel than HTC's currently favored OLED screens. Although the latter is arguably more power efficient, the DROID's display is in our experience just as bright and color rich as that on the Droid Incredible; it also has the benefit of being more usable (at lower brightness settings) outdoors.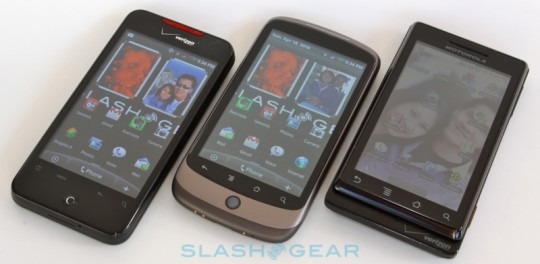 As with the Nexus One, the Motorola runs Android 2.1 with no embellishments (not even the company's own MOTOBLUR social networking integration). While you could argue that the DROID's slide-out hardware QWERTY keyboard makes it a more proficient messaging device, HTC's updated Mail client actually pushes the Incredible ahead in our opinion. Although 2.1 has native Exchange support, it's only for email and contacts; the HTC app adds in calendar sync too, and the mail app itself allows you to view messages organized by whether they're flagged, unread or from certain "VIP" contacts, or if they're meeting invitations, and there's a threaded "conversation" view too. Although the Motorola's QWERTY is fair, HTC's standard on-screen keyboard is a pleasant boost over and above the regular Android QWERTY – thanks to improved auto-correction – though we're also fans of Swype on which we're actually faster than with a hardware 'board.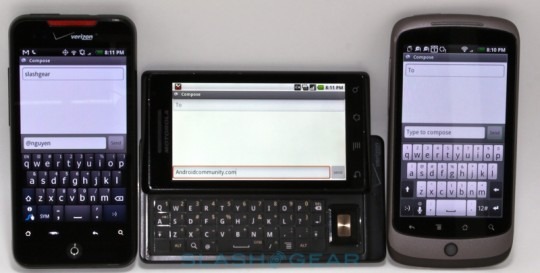 The flip side to out-of-the-box usability with Sense, though, is the ease of future OS updates. It's telling that, in the months the DROID has been on the market, Motorola have already upgraded it from Android 2.0 to 2.1; HTC users have been waiting considerably longer for an update of early Android devices (such as the HTC Hero) to a newer version of the platform. That's down to the headaches of getting Sense to play nicely with a changed OS, and while we don't doubt HTC's intent to keep the Droid Incredible as current as possible, we also feel pretty confident saying that the Motorola handset, unmodified as it is, will likely get official builds sooner.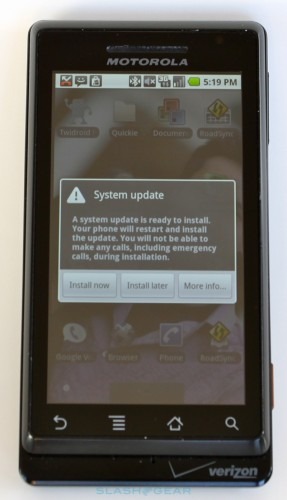 Where the Droid Incredible particularly kicks away from the Motorola – and, for that matter, the Nexus One – is with its camera. It's not just a win on the spec sheet, either; the Incredible's 8-megapixel autofocus camera has a brighter, dual-LED flash than the Nexus One, and the still photos it takes are significantly better than those of either the Google phone or the DROID. It's also more flexible, with granular control over exposure, contrast, saturation and sharpness, ISO ranges from 100 to 800 and optional geotagging and face detection. Sadly there's no 720p HD video recording on any of the three devices, but the Droid Incredible's 800 x 480 WVGA footage is reasonable if uninspiring.
Tour of Grand Canyon at 30,000 feet through Droid Incredible's camera
Sample videos taken with Droid Incredible
[vms 3de32e976c6f04e70020]
Image taken by Droid Incredible of Grand Canyon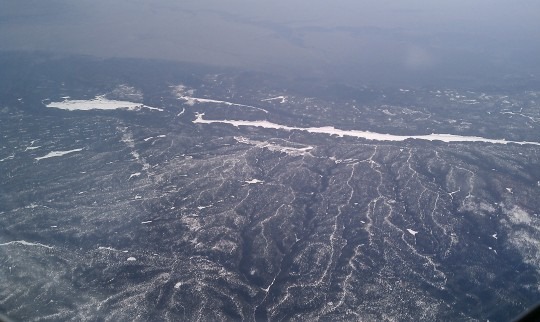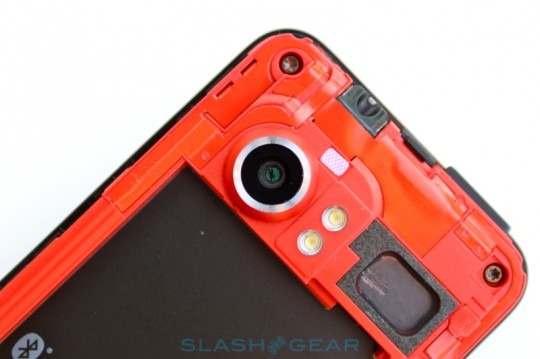 Unfortunately, the flip side is battery life. The Nexus One requires some goading of settings to get it through a heavy day's use, and – since some of the more recent firmware updates – the Motorola DROID actually stretches out its battery surprisingly well. Here, though, the Droid Incredible falls resolutely into bottom place; we're not sure quite what's happened, but it ousts even the hungry Nexus One. With the settings as standard, and push email turned on, we didn't make it through a full day of use before the phone expired. Toning down the amount of social network updates that Sense makes, together with notching down the screen brightness a little, each helped prolong things, but the Incredible is definitely an over-eater.
Compounding the issue is the absence of a charging dock. Both the DROID and the Nexus One can be paired with an optional cradle, and we've found that we're more likely to drop each phone into its respective dock than we are to plug them in with a regular microUSB adapter. That way, the handset gets a mild top-up and you get to stay wireless for more of your day. The Incredible's lack of charging contacts (unlike the Nexus One) and side-mounted power connector mean a portrait-orientation dock is unlikely, and the fact that Sense doesn't have a landscape-orientation mode leaves us doubting that HTC plan a cradle similar to Motorola's.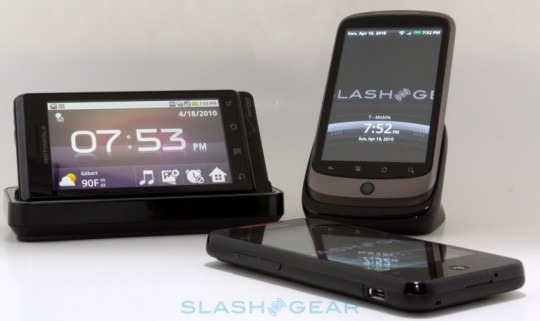 It's frustrating, because there are lots of power-hungry reasons we'd rather have the Droid Incredible in our pockets. There's Flash Lite 4.0 support in the browser, for one, though performance at streaming video is very much dependent on the bitrate it has been recorded at; too high, and the Snapdragon CPU chokes and playback gets stuttery.
Audio performance during voice calls is a little better than with the DROID, though lags behind the Nexus One. That's primarily down to the Incredible lacking its sibling's noise-cancelling microphone array. Meanwhile 3G data performance over the Verizon EVDO Rev.A network was strong, though without a CDMA Nexus One we can't make any direct comparisons. As with the DROID, the Incredible is CDMA-only and – shortsighted in our opinion – lacks global 3G support; saying that, as far as we're aware the upcoming Verizon Nexus One won't get that either. If you regularly travel outside the US and still want to use your smartphone, neither the Incredible nor the DROID are the devices to choose.
Strong contender as the Motorola DROID is, the Droid Incredible by HTC edges ahead by virtue of its better performing camera and Sense UI. Similarly, we'd pick the Incredible over the Nexus One; don't underestimate the value of having Verizon's after-sales support network to hand, something that – even when the CDMA Nexus One goes on sale – the Google-branded phone will lack. Our only real Incredible concerns begin with battery life and end with firmware updates; we hope HTC can tweak their power management to address the former, though the latter could be the sting in the smartphone's tail. As we said with the HTC Desire, though, opting against a Sense device out of what may or may not transpire a number of months into the lifecycle does mean you're missing out on an excellent handset experience today.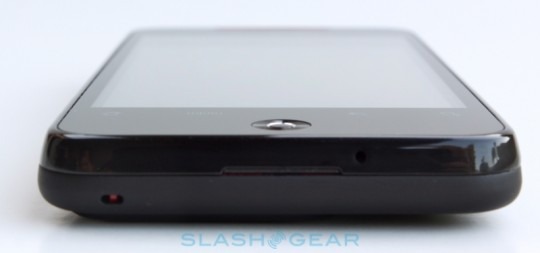 When the HTC EVO 4G arrives on Sprint later this year, the Android balance will change again. Connected services are arguably the future of smartphones and mobile devices, and the boost in data speed WiMAX will bring may just change our minds again. Until then (and of course that assumes you live in an area served with Sprint 4G coverage) we're leaning toward the Verizon Droid Incredible by HTC. International travelers and those unwilling to experiment with their data and power settings should look elsewhere, but everyone else will be enjoying excellent camera performance served up in a user-friendly package.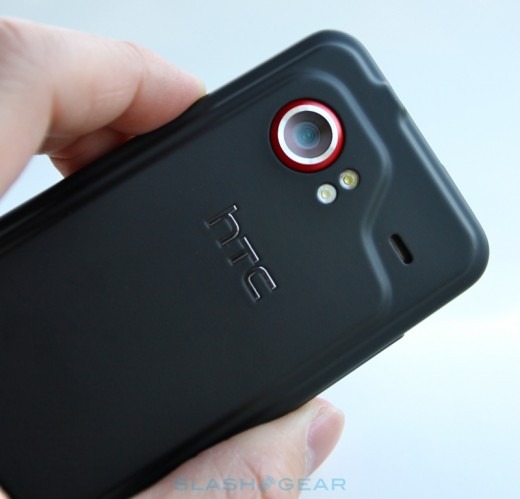 Unboxing Droid Incredible by HTC for Verizon
[vms d40e1af829d1fa82daa1]
Verizon Droid Incredible by HTC key specifications:
Qualcomm 1GHz Snapdragon chipset
512MB ROM, 512MB RAM
3.7-inch WVGA 480 x 800 OLED capacitive touchscreen
8-megapixel autofocus camera with LED flash
8GB internal memory & microSD card slot (32GB)
EVDO Rev.A, WiFi b/g & Bluetooth
GPS, accelerometer
Android 2.1 with HTC Sense
3.5mm headphones socket & microUSB 2.0 port
1,300mAh Li Ion battery (rated 5.2hrs talktime or six days standby)
4.63 x 2.3 x 0.47 inches / 4.59 oz