DROID DNA Wireless Charging Dock hands-on
The wireless charging pad that's made specifically for the HTC DROID DNA was revealed today a bit more silently than the smartphone, mainly because it's not manufactured by HTC – and because it's not really all that new. This LG-made device will be appearing at Verizon at the same time as the DROID DNA itself for a cool $59.99 USD. This device is rather large, eclipsing the DNA by quite a bit – in other words, you'll have a hard time missing it.
This machine simply plugs into your wall and works with the wireless abilities of the DROID DNA to power your battery at a rapid speed. Oddly it doesn't appear that the folks at LG have made any effort to be tiny like Nokia has with their own wireless charging pad effort. Instead we've got a rather bulky device that appears to be more like a pillow for the smartphone than a charger.
NOTE: This device was actually announced in March of 2011 and has been on the market since this spring. It is, however, coming to Verizon here for the first time, and is $10 cheaper than it was originally offered for earlier this year at electronics stores.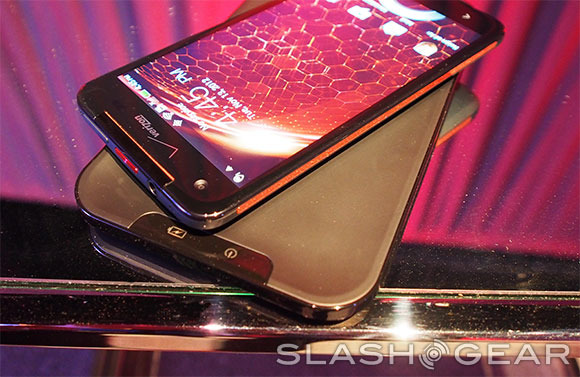 This beast will be charging up the DNA's 2,020mAh battery at least once a day, especially considering the massive display and pixel density – no to mention the brightness – on the smartphone. Charging works with Qi standard technology, a standard put forth by the official Wireless Power Consortium. This likely means that the wireless charging pads Nokia has released will work just as well as this LG solution, as they use the same standard.
For more information on the DROID DNA by HTC, have a peek at the timeline below. There you'll find hands-on action as well as pricing and release information. You'll also find more specifications for the device, fun facts, an FCC listing, and a partridge in a pear tree. Stay tuned for our full review of the DROID DNA as well, coming up soon!