DROID BIONIC First-Impressions [video]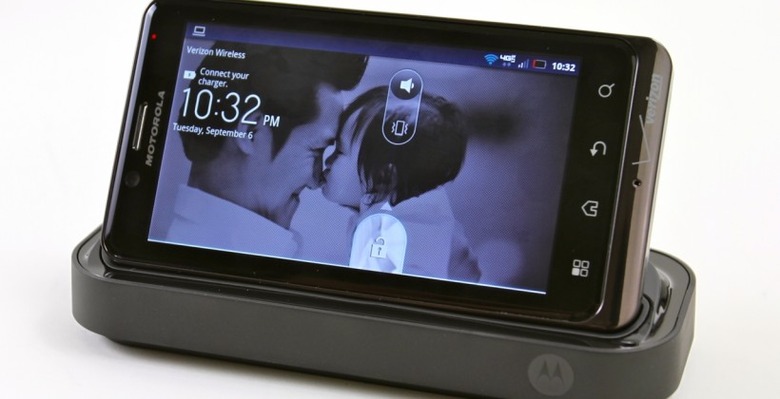 We've been waiting for the DROID BIONIC by Motorola for some time, now. Verizon has had 4G LTE Android smartphones before, of course, but they've always come with a compromise: so far, if you've wanted LTE then you've also had to make do with a single-core processor. The DROID BIONIC changes that, packing not only high-speed wireless connectivity but a dual-core 1GHz CPU as well, putting the speedy Android 2.3.4 Gingerbread experience on a 4.3-inch qHD anti-reflective touchscreen. That's plenty of boxes ticked from the off; read on for all our first-impressions.
Aesthetically it's in keeping with the squared-off Motorola DROIDs we've seen recently, fronted by a bright and colorful 960 x 540 LCD panel. It's a big display, the same as you'll find on the HTC Sensation 4G for instance, though the extra pixels can leave the on-screen keyboard smaller what with everything Motorola has squeezed into it. 4.5-inches seems like a sweeter size considering our fingers.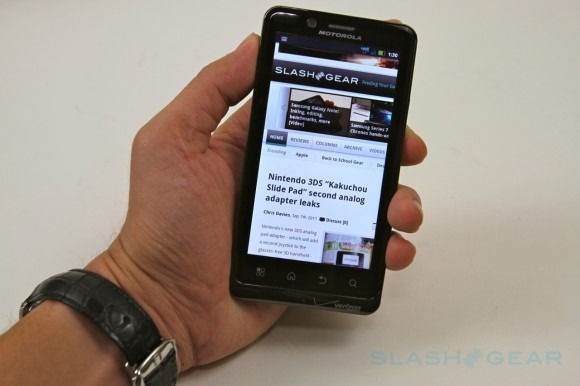 Still, we can't really fault the performance. Apps load quickly and run smoothly, webpages render fast, and there's plenty of eye-candy. Motorola's homescreen widgets are resizable – though not the regular Google ones, obviously – but we're less impressed by the amount of bloatware the company installs, including Zumacast, GoToMeeting, Citrix Receiver, MOTOPRINT and more. Initial benchmarking suggests that the dual-core Texas Instruments CPU is faster than NVIDIA's Tegra 2 but still lags behind Samsung's 1.2GHz chip in the Galaxy S II.
DROID BIONIC Hands-on video:
[vms 4fe3add32218f914c75a]
The other headline feature is LTE connectivity, and that works well. So far we've tested it in San Francisco, Las Vegas and Phoenix, with 3G-busting data speeds in each area. Obviously it's still very much coverage-dependent, but when you've got a 4G signal the DROID BIONIC really lives up to its name. The potential downside is battery life; Motorola estimates up to 650 minutes talktime or 200hrs standby from the 1,735 mAh battery, though it's too early to say whether the BIONIC will last a full day of heavy use. It's also worth noting that there's no World Phone support, so the Motorola won't play nicely with GSM networks if you're roaming.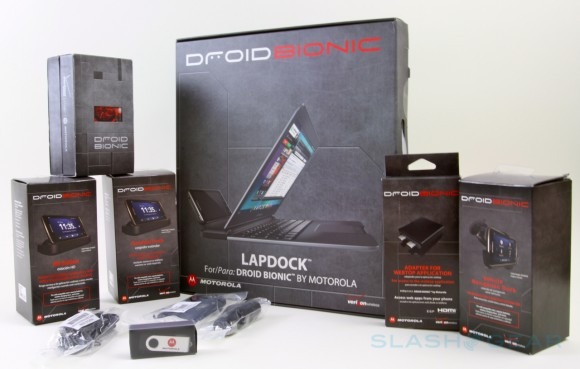 Elsewhere there's an 8-megapixel rear-facing camera capable of 1080p HD video capture (which can then be played back via HDMI), with an LED flash and auto-focus. A front-facing VGA camera is above the screen. Unfortunately we're seeing some issues with sluggish auto-focus on the main camera: it takes a while for the BIONIC to lock focus and fire off a shot, and even after that the stills are often blurred. Motorola is looking into the issue, which we're hoping is fixable with a simple firmware update. There's a sample 1080p HD video clip filmed using the BIONIC below.
Sample 1080p video recording:
[vms 2f1904eb09d2e80a4cbf]
Motorola hasn't been shy with accessories. In addition to a desktop dock there's a Lapdock as we saw for the ATRIX, which turns the smartphone into a notebook, a HD Station for multimedia output into your HDTV or projector, a vehicle dock and a portable HD adapter. The Lapdock is probably the most interesting of the set, an 11.6-inch display, full keyboard and trackpad for the BIONIC that, when the phone is docked, boots into Motorola's Webtop app with a full Firefox browser, multitasking with Android apps and control over calls and messaging. If your company has Citrix Receiver support you can even log in and remotely access your desktop. Unlike with the ATRIX, however, performance seems swift enough to make the Lapdock a realistic possibility as a notebook alternative.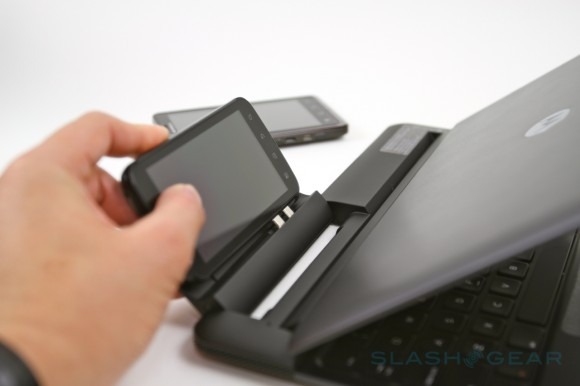 We'll be putting the Verizon DROID BIONIC by Motorola – as well as all the accessories – through its paces for the full SlashGear review, including benchmarks and speed tests, so let us know what questions you have and we'll do our best to answer them! The smartphone will go on sale on Thursday, September 8 priced at $299.99 with a new, two-year agreement, while the Lapdock will be $299.97, the HD Station $99.99 and the Webstation Adapter $29.99.