Drobo drops price, still fails to add lasers to storage robot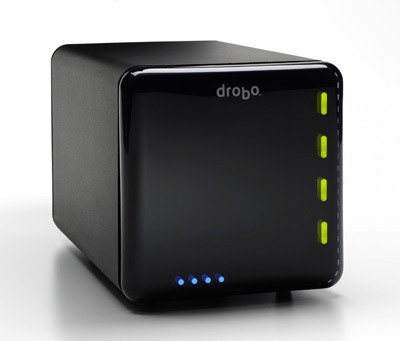 I neglected to bother to write about Drobo when I first saw it mentioned, because they're advertising it as a "storage robot" and I was disappointed that it didn't have any sort of laser blaster or articulated legs.  For those of you less automaton-obsessed than I, however, and in the market for standalone storage, perhaps the "intelligent" array now with a $200 price slash bringing it down to just $500 – will float your data boat.
It's a deceptively simple concept: a black box with numerous empty bays, into which you slot spare SATA I or II drives.  These are then automatically cobbled together into a great big hot-swappable mass of redundant storage, capable of reshuffling files in case of corruption, drive removal or addition, predicting any potential failure using inbuilt metric diagnostics.
So far, so tasty.  But it's the connectivity that concerns me: unlike, say, the LaCie drive I reviewed last month, the Drobo unit lacks all but USB 2.0.  Yes, with that handy price cut you could afford to add some sort of network bridge, but wouldn't it have been easier for Drobo themselves to drop a gigabit ethernet port into the mix?