Drobo B1200i SSD announced with 300x performance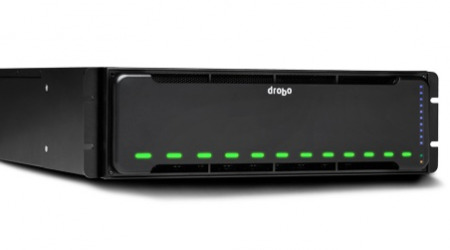 It's time to get serious about a solid state drive upgrade with Drobo's brand new B1200i SSD, complete with what the manufacturer says will be a performance boost of up to 300 percent over previous product iterations. This hardware will bring on a hybrid of solid state technology and traditional hard disk drives like SAS or SATA. And what's fabulous for current owners of the B1200i is this: a software update is all you'll need to gain new performance and functionality from Drobo, and it's free!
This software update for you ol' B1200i owners will be listed at http://www.drobo.com/support/updates.php where you'll be able to download and load it all for free. The new new B1200i SSD release announced this week has the ability to make use of a small number of SSDs alongside hard disk drives to make one single economically sound storage system. This system has also attained VMware Ready status with vSphere 5.0 certification.
Microsoft, VMware and Citrix environments will be able to make good use of the Drobo B1200i SSD, as will data protection solutions supporting Veeam, Acronis and Symantec backup and replication. Essentially you're getting a product that works essentially anywhere you need it to – and with its ability to combine the many bits of storage and backup hardware you've already got on hand, you'll be saving a ton of potential dollars you'd otherwise be spending in the future.
Have a peek at the lovely selection of Drobo content we've got in our Drobo portal and make sure you check out our Drobo timeline below as well to see which products appeared over the past few weeks and months that landed us here with the new and improved Drobo B1200i SSD!