Drobo 5D3 storage touts Thunderbolt 3 for performance boost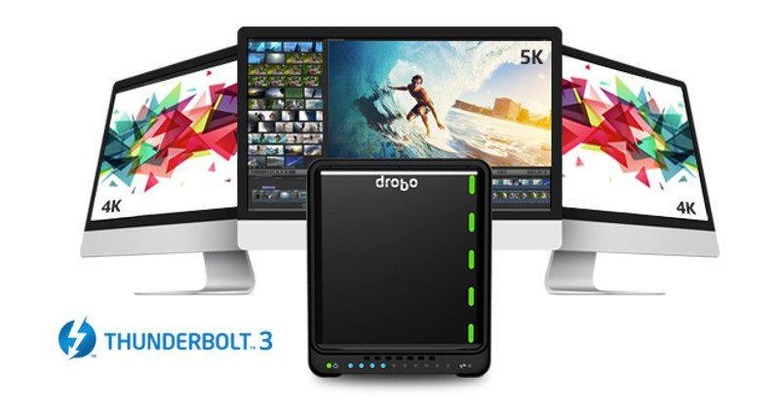 Aside from the flexibility to plug almost any type of peripheral, one of the promises of the Thunderbolt 3 connector that Intel and Apple are pushing is speed. Taking advantage of the increase in data transfer bandwidth, Drobo is launching its new 5D3 RAID storage solution that not only keeps your data safe and intact, it can also charge your laptop or even be your computer's connection to a 4K or 5K monitor.
Such is the wonder of Thunderbolt 3, itself building on the perks of USB Type-C. A single Drobo 5D3 can be connected to a single Thunderbolt 3 5K monitor. Or it can connect to one Thunderbolt 3 4K monitor and another USB-C 4K monitor. If you daisy chain the max 6 Drobo 5D3's allowed, you can have up to 300 TB of data in a single location. And it can also charge your Thunderbolt 3 laptop while connected to it.
Of course, the Drobo 5D3's claim to fame won't be on its two Thunderbolt 3 and lone USB-C ports alone. That would also come from Drobo's BeyondRAID technology. The RAID array has room for five 3.5-inch drives that you can switch out on the fly, no downtime required. You can even mix and match sizes and capacities, or plug in HDDs for more storage or SSDs for faster throughput.You also have a pocket for an mSATA SSD to complement your configuration.
Drobo's software and hardware facilities make the 5D3 and ideal storage and backup solution for home offices and small businesses that require fast access to local data storage. Data integrity is preserved not just with the usual RAID mechanisms but also with a backup battery and an onboard flash to temporarily stash unwritten data when the power suddenly gets cut off.
Of course, you do pay for that power, convenience, and peace of mind. A single Drobo 5D3 box will set you back $699, and that doesn't yet include any drive, HDD, SDD, or mSATA SSD. With four 6 TB HDD, the price can go all the way up to $1,900.
SOURCE: Drobo