DoubleSight's 7" and 9" low-cost USB sub-displays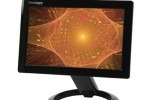 We've a soft-spot for USB-connecting mini LCD displays – they're a nifty way to get Photoshop toolbars, IM windows, Twitter apps and other windows off your main display but keep them readily visible – so we're glad to see more options hitting the market.  DoubleSight have three sub-displays to choose from, starting from the 7-inch DS-70U and then breaking into the hitherto unusual 9-inch segment with the DS-90U and DS-90UC.
The DS-70U has a 7-inch 800 x 480 WVGA panel, while the 9-inch models climb to an altogether more satisfying 1,024 x 600 resolution.  The DS-90UC also adds a webcam that can be snapped on or off.  All three hook up via USB and don't require a separate graphics card; you can apparently connect up to six at a time, but based on our experience with Nanovision's MIMO displays you'll need a relatively powerful system in order to support that many simultaneously.
Pricing, though, is the best thing about the DoubleSight range.  The 7-inch DS-70U comes in at $119, while the 9-inch DS-90U is $139; budget $159 for the webcam-toting DS-90UC.  All come with a removable screen cover for transporting the displays safely
Press Release:
New Product – Smart USB Monitors
IRVINE, Calif., Sept. 29 /PRNewswire/ — DoubleSight Displays, a leading manufacturer of Multi Monitor Solutions, is pleased to announce the release of the its new Smart USB Monitor Family of LCD Monitor Solutions.

DoubleSight's Smart USB Monitors are a true advance in the Multi Monitor Solution category. USB makes these monitors the easiest way to add a monitor to any computer. The small compact size makes the Smart Monitor the perfect accessory for Laptop and Netbook computers.

Key Features:

Built-in Support for Multi Monitor Mode

Perfect for Laptops, Netbooks and Desktops

Lightweight and Portable

Landscape and Portrait Viewing

USB for Power and Video (no video port required)

PC and MAC Compatible

Supports a Variety of Applications

Multiple Monitors as a Solution

Multiple Monitors are a productivity solution which is rapidly becoming the norm in today's busy workplace, according to Dario DellaMaggiore, Director of Sales and Marketing at DoubleSight Displays. "DoubleSight continually seeks new ways to help users expand their viewable workspace and make multitasking easier," added Mr. DellaMaggiore. "Now adding a second or third monitor to a computer has never been easier. Simply connect the DoubleSight Smart USB Monitor via a USB Port and run the installation software. That is it."

The Smart USB Monitors utilize USB for both power and video. One cable does it all. No additional video port, video cable or power adapter is required. DoubleSight utilizes DisplayLink Technology, making these Monitors truly smart and easy to use. DisplayLink allows the user to control the viewing choices, including alternating from landscape to portrait viewing with the click of a mouse. Several models are available, including 7" and 9" LCD screen sizes. Smart USB Monitors are also available with a Web Cam option. Each Smart USB Monitor ships with DisplayLink Software, an adjustable Desktop Stand, a Protective Travel Cover for portable use, USB Cable and easy-to-understand QIG and Owner's Manual.

Smart USB Monitors are perfect for:

Exporting Tool Bars and Menus

Monitoring Email and Viewing Calendars

Instant Messenger or Internet Phone Applications

Watching Movies and Internet Video

Viewing PC-based Photo Albums

Laptop Users

DoubleSight's new Smart USB Monitors are the perfect Laptop accessory. Easily expand your viewable workspace wherever you are. Each Monitor weighs less than one pound and conveniently tucks into your briefcase to go with you. The adjustable stand removes quickly and a snap-on cover protects your screen when traveling. A convenient easel stand is tucked into the back of the Monitor to use when traveling.

Netbook Users

Double the amount of visible work space and increase your productivity, at home or on the road. These Monitors do not require an extra video port and drivers are easy to download from our web site. Expanding your view has never been easier.

Desktop Users

Perfect for increasing your viewable desktop where space is tight. Since an additional video port is not required, our USB Monitors are perfect as a second or even third monitor. DisplayLink Software allows you to connect up to six Smart USB Monitors to your existing PC.

Models, Price & Availability:

DS-70U Smart USB LCD Monitor, 7" LCD Screen – Est. Street Price $119.00

DS-90U Smart USB LCD Monitor, 9" LCD Screen – Est. Street Price $139.00

DS-90UC Smart USB LCD Monitor with Web Cam, 9" LCD Screen – Est. Street Price $159.00

Product URL – http://www.doublesight.com/product/?cid=10
[via Engadget]