DOOM free update 5 adds Infernal Run multiplayer mode and bots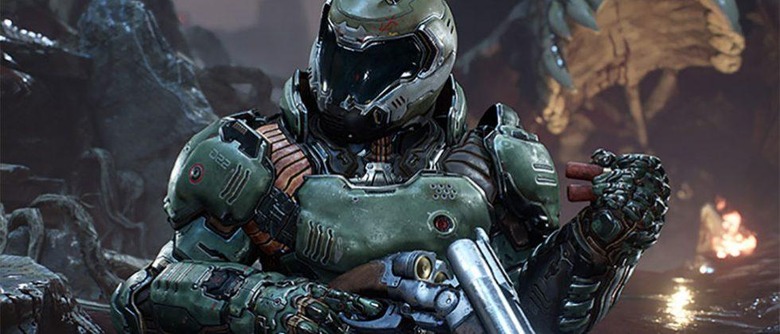 DOOM has turned out to be one of the coolest games launched this year and Bethesda has been making gamers even happier about the game with free updates since launch. Free update five is now available and it adds in some cool new features that players will be thrilled about. One of the biggest additions in the update is a new multiplayer mode.
The new mode is called Infernal Run and it has teams fighting for control of the ball. To score in this mode the ball has to be thrown into the opponent's goal. Another big change is something that players have been asking for since the beta pre-launch months ago- bots. Bots are now available in the Team Deathmatch and Deathmatch modes.
Bethesda has also changed the level cap for the game with multiplayer rank now going to Echelon 11. Once you reach that new high rank, you will unlock the DOOM Marine Armor. With the Praetor Suit your game character will look much cooler. Free update five also brings with it the Lazarus Lab with themed modules, new props and other features.
DOOM players can earn double the XP in multiplayer from now through December 12 at 12pm ET to celebrate the new additions. Bethesda is also reminding DOOM players than the last DLC for the game called Bloodfall will launch on December 15. That DLC will allow players in part to turn into the Spectre Pinky demon and go invisible. The free update also adds in a number of fixes and other content to the game including new single player interactables. Check out the video to see more of what the update offers.
SOURCE: Bethesda