Doogee BL7000 Smartphone Review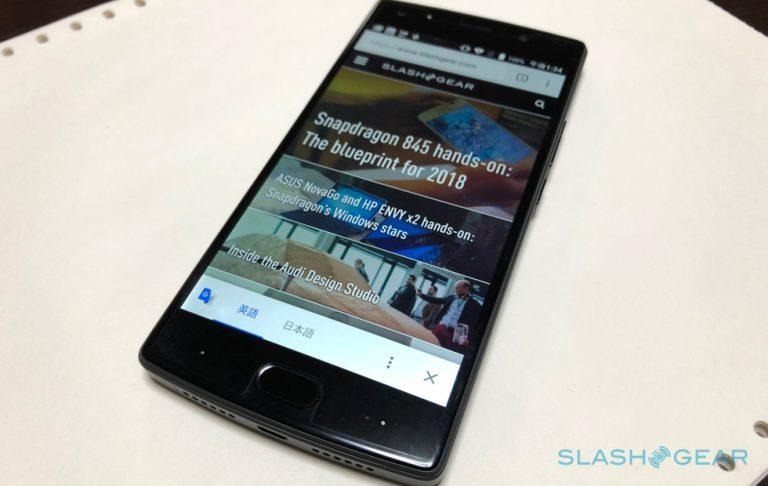 EDITORS' RATING: 6/10
Chinese smartphone makers are often criticized, avoided like the plague even, for being copycats. While there might be some truth to that, there are others who have dared to push the boundaries, venturing into territories that larger and more established brands dare not to. Xiaomi, for example, kicked off the whole bezel-less screen trend with last year's Mi Max. And then there's Doogee, whose BL "Be Long Time" series takes battery life to the extreme. But how extreme can you get without breaking your wallet or burning pockets? We take the Doogee BL7000 for a spin to give you that answer.
Design
The first reaction you'll most likely have when you lift the Doogee BL7000 out of its box is "wow, this is heavy!" Anyone with a 7,000 mAh battery pack will know those things don't come light. What more when it comes with a full smartphone alongside it. At 220 g, it even outweighs the iPhone 8 Plus.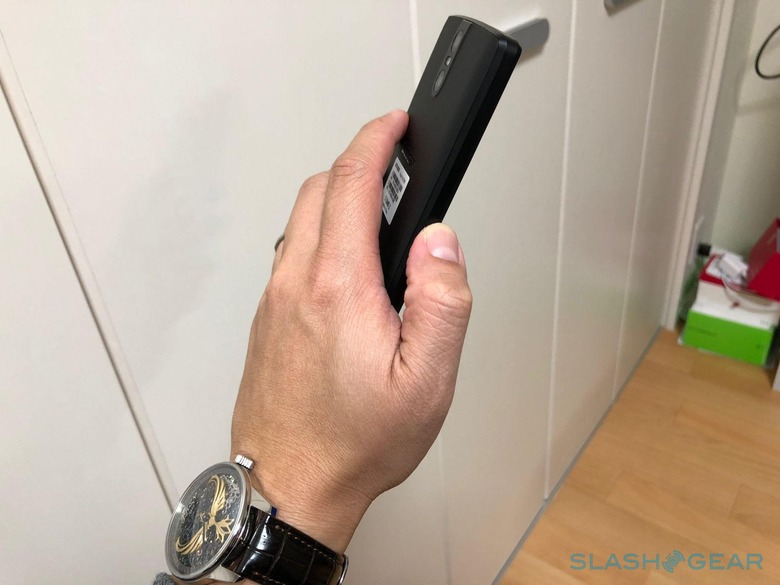 Your second reaction will probably be "wow, this feels different!". The BL7000 has the makings of a luxury smartphone design, which, somewhat ironically, aren't exactly the slimmest and lightest phones in the market. That feeling is partly thanks to the smartphone's 11 mm girth and aluminum edges. But its is really mostly thanks to the faux leather that brings us back to 2014. Sadly, unlike the Samsung Galaxy S4, the back isn't removable.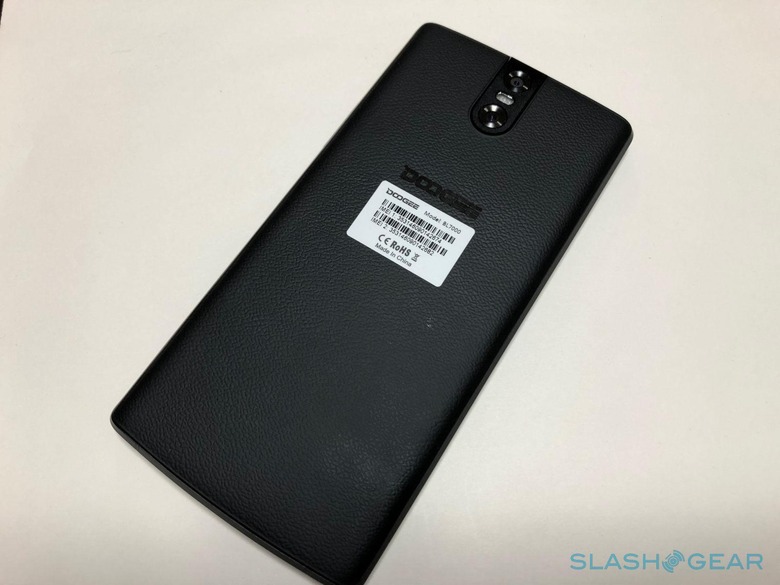 While the Doogee BL7000 feels unique, or at the very least hefty, in the hand, it isn't particularly interesting visually speaking. In addition to the thickness imposed by the large battery, the BL7000 doesn't exactly have any distinctive visual features. On the right you have the power button, volume rocker, and SIM and microSD card combo tray, leaving the left side completely bereft of features. On the bottom you have two rows of speaker holes flanking the micro USB port. Don't worry, there's still a headphone jack sitting by its lonesome self at the top.
Hardware & Performance
Here's a quick rundown of those oh so juicy specs:
• Operating System: Android 7.0
• CPU: MediaTek MT6750T (4 x 1.5 GHz Cortex-A53, 4 x 1.0 GHz Cortex-A53)
• RAM: 4 GB
• Storage: 64 GB eMMC 5.1, expandable with microSD card
• Display: 5.5-inch 1920x1080 Sharp LCD
• Main Camera: 13 MP + 13 MP Samsung ISOCELL, LED flash
• Secondary Camera: 13 MP Samsung ISOCELL
• Battery: 7,060 mAh, 12 V/2 A fast charge
• Dimensions: 156 mm x 76 mm x 11 mm
• Weight: 220 g
The BL7000 easily classifies as a mid-range smartphone and it definitely performs as such. The MT6750T isn't going to win any races, even among similar horses. One thing that seems to drag performance down a bit is the 1080p display, as this MediaTek chip performs best with a 720p screen instead.
That said, the processor is definitely capable of 1080p video playback, which is perfect for that screen. Granted, the Sharp-made LCD panel isn't the brightest around, but there are far worse budget-friendly phones in the market. The screen is decent to get you through your Netflix binge without cringing, which his what this phone was made for, it seems. Not for heavy-duty gaming, sadly.
On the software side, Android purists will be happy to know that the Doogee BL7000 ships with a nearly pure Android 7.0 experience. Gone are the days when each and every manufacturer would shove their idea of a perfect Android UI down your throat. Not that smaller OEMs can afford the development and maintenance costs of having their own Android skin anyway. The question now is whether this means Doogee will be able to push out updates as fast as, say, Nokia and Essential.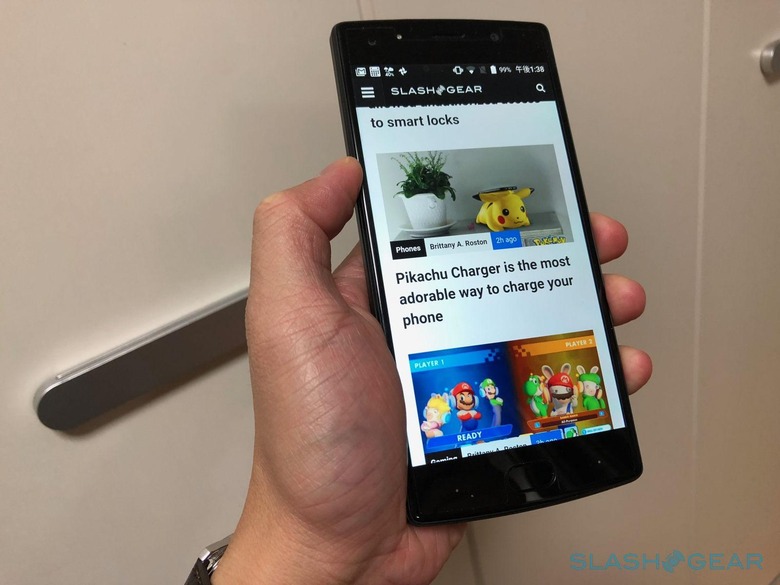 Battery
The BL7000 was made for its battery. Its very name reflects that fact. Doogee claims some rather big numbers for battery life and, fortunately, it delivers. More or less. That 38-hour number is, of course, only applicable when it's on standby. With normal use, you are more likely to get 2 days, possibly less. The difficult part of this measure is the "normal" part because there isn't really any normal use. Using it continuously, though, shortens battery expectation to 12 hours only.
When you do need to charge it, you won't have to wait too long. Doogee advertises 2 hours of charging time, which we find to be a tad too optimistic. It took us nearly three hours to go from zero to full. Still not bad, except for one worrying issue.
The phone gets really hot when charging. Doogee uses MediaTek's Pump Express 2.0 fast charging tech, so part of the blame could lie with the chip maker. That said, Doogee also has the responsibility to include proper thermal management. It's not dangerously hot, mind, but enough to scare you from using the phone while it charges.
Camera
These days, smartphones have become veritable digital cameras and most companies try to advertise them as such. Doogee is on exception but if you expected the BL7000 to perform as advertised, you'd be in for a disappointment.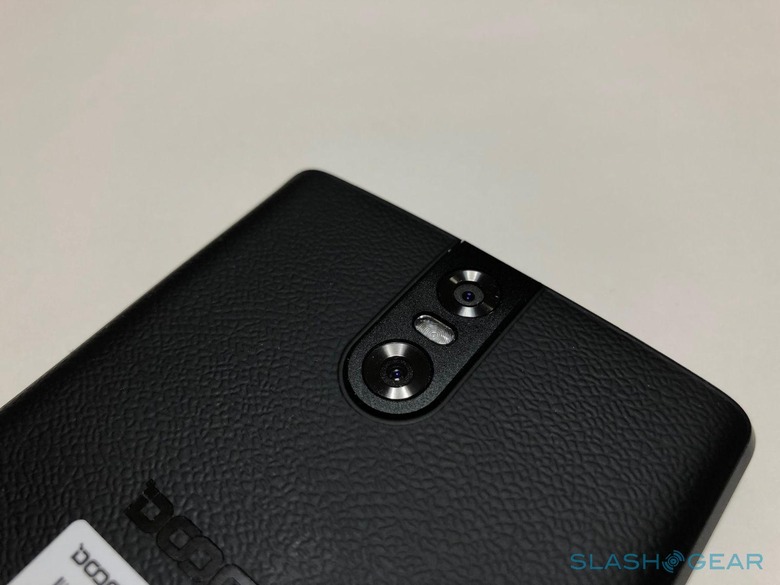 The BL7000 is probably one of Samsung's first customers to use its new ISOCELL-branded sensors. In particular, Doogee proudly notes that its dual 13 megapixel sensors come from Samsung. You might not be able to tell due to how slow the camera experience is. The shutter speed was so slow that any moving object in the scene would immediately become a blur. Granted, when everything stands perfectly still, the output is quite commendable.
The single 13 megapixel camera, also a Samsung ISOCELL sensor, doesn't fare as well. Shots came out quite blurry and weren't even worth posting. And that's not even an intentional "bokeh" blur. Fortunately, these issues with the camera performance lean more on the software side, which means they can potentially be fixed, presuming Doogee can and will roll out an update.
Wrap-up
The Doogee BL7000 is unlike any mid-range phone you've seen, even those with large batteries, for two reasons. One is its attempt at a luxury phone look and, especially, feel. The other is its $160 price tag that almost makes you want to forget all its imperfections.
And imperfect it certainly is. Performance is sub-par with other similarly specced phones and the camera, though hopefully solvable, doesn't leave a very good first impression. Still, for a mid-range phone with a humongous battery, you are getting what you pay for, which, in this case, is really that battery more than anything else.