Dominos webcam peeps pizza prep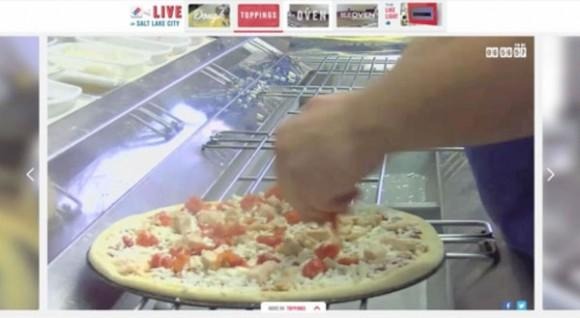 I think pretty much everyone who orders a pizza at a pizza place would like to watch their pizza being made. Not necessarily because watching your pizza being made is exciting or enjoyable for most of us. Mostly, I like to see my pizza being made so I can be sure any Sasquatch-like employees in the back aren't dumping hair or something else disgusting into my food.
As it is now, most pizza restaurants, such as Domino's Pizza, hide much of the pizza making process in a part of the store where consumers can't see. If you order your pie for delivery, it doesn't matter where they make it you'll never get to see what's going on. It could be interesting if pizza restaurants had cameras so you can see your pizza being made from home.
Domino's has announced something new, and more than a little strange, called Domino's Live. You aren't likely to see your own pizza being made the using this new live camera system because the cameras are only placed in a restaurant in Salt Lake City. However, if you're hungry you can watch somebody else's pizza being made.
The cameras will be showing live footage during the restaurants lunch or dinner rush. The footage will be live and uncut patched together from five cameras installed in the restaurant. The program is a pilot that will run throughout the month of May. I can see the service potentially being a problem if the people on camera aren't the cleanest of pizza makers.
[via Domino's Live]