Domino's on Slack lets you order a pizza between chats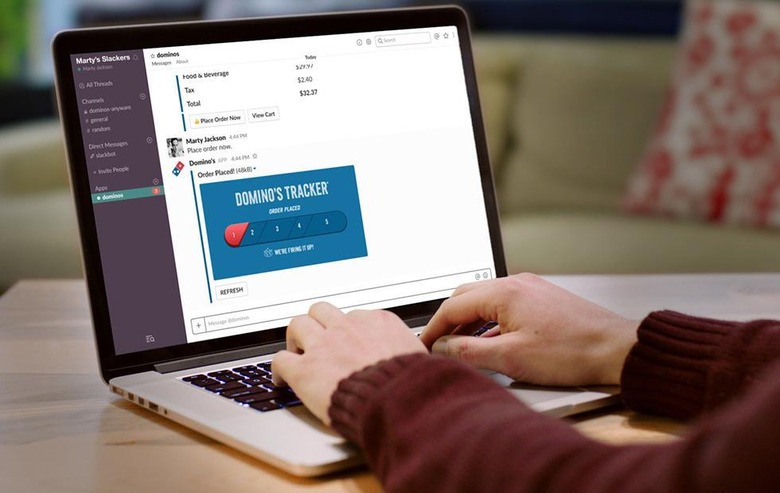 Domino's has expanded beyond its Facebook Messenger bot, announcing a new integration that allows customers to place an order through Slack. The integration makes Domino's the first national pizza chain to provide ordering on the messaging platform, though definitely not the first company to hawk its products through the platform. Ordering lunch at work just got a little easier, however.
A wide variety of companies and services offer Slack integration, such as Uber and Lyft which allow customers to order a car from directly within the messaging platform. Domino's is merely the latest addition to this list; it is billing its new integration as a way to make ordering lunch for everyone at the office easier.
Slack is largely used by companies and teams to facilitate data exchange of various sorts, the integrations taking it to a level that simple chatting services can't compete with. Slack's collaboration over work projects can be extended to collaboration over work lunches; an order for yourself or everyone in the office can be submitted using the same platform where you gather everyone's orders.
If you use Slack and care about this integration, you can add the service by heading into the Slack App Directory and installing the Domino's app. Orders through Slack can be placed either using a direct message to Domino's or group orders can be submitted within a channel. Slack users are being offered a 20-percent ordering discount if they request a coupon through the platform.
If you're not a Slack user, you still have the ability to order from Domino's using a messaging service, namely Facebook Messenger. This chat bot has been around for months and received more abilities in the relatively recent past, enabling users to order favorite meals or specific dishes. Domino's was also notable at one point for its emoji-based ordering.
SOURCE: PRNewswire