Dodge Charger and Challenger get Plum Crazy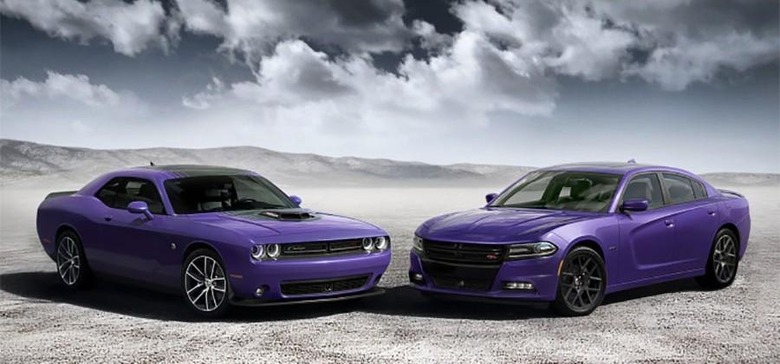 Back in the 60s and 70s, Dodge had some iconic colors that it used on its muscle cars with names like Panther Pink, Moulin Rouge, and Sublime. Dodge may have taken the name of some of those iconic muscle car names and grafted them onto boring econoboxes like the Dart, but it still has some cool cars in the Challenger and Charger.
Dodge has announced that the Plum Crazy purple hue is making a comeback and is available on the Charger and Challenger for the 2016 model year. The bright paint color will make its debut at the 2015 Woodward Dream Cruise on August 15. If you show up at that event, you can lay eyes on Plum Crazy for yourself.
The paint color looks fantastic on the Challenger in the press photos you see here. Plum Crazy is a color option that buyers of the Charger and Challenger will be able to get on most any version of those cars. Challenger buyers can get the color on the SXT Plus, R/T, Hemi Scat Pack Shaker, SRT 392, and SRT Hellcat trims.
Charger buyers can go Plum Crazy on the SXT with 20-inch wheels, R/T, SRT 392, and SRT Hellcat. Orders for Plum Crazy cars will begin in September with dealers being able to order the cars for stock starting in October. Production will start in November. I could see a Plum Crazy SRT Hellcat in my driveway.
SOURCE: Autoblog