DJI Osmo Action camera: A twin-screen attack on GoPro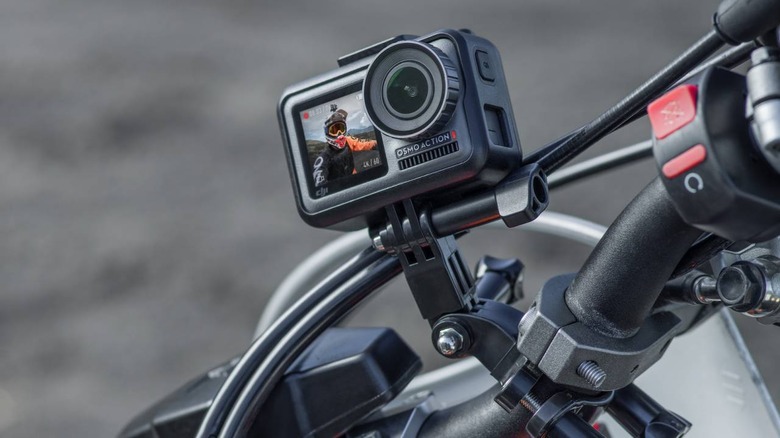 DJI has revealed its first action camera, the DJI Osmo Action, wading further into GoPro territory and threatening to upstage its rival with dual color screens and more. The new camera combines dustproofing, shock proofing, and waterproofing with both a rear touchscreen and a front display for easier framing of shots.
At first glance, DJI hasn't strayed too far from what we're familiar with from an action camera. The Osmo Action is a compact block with an offset lens on one side; it's pushed across to accommodate a 1.4-inch color LCD, which shows a live view from the camera.
It's a clever addition. One of the trickier parts of using an action camera has always been trying to frame the shot. While the cameras themselves can be fairly easy to position into unusual locations – like on a helmet, up in the corner of a windshield, or on bike handlebars – actually checking whether you're properly in the frame yourself can demand either contortions or booting up the mobile app and connecting the camera to your phone.
The Osmo Action does, of course, have a regular display on the back, too. That's a 2.25-inch touchscreen, with a water- and fingerprint-repelling coating. Screen brightness is 750 nits, extra high so as to ensure the displays remain visible even in direct sunlight.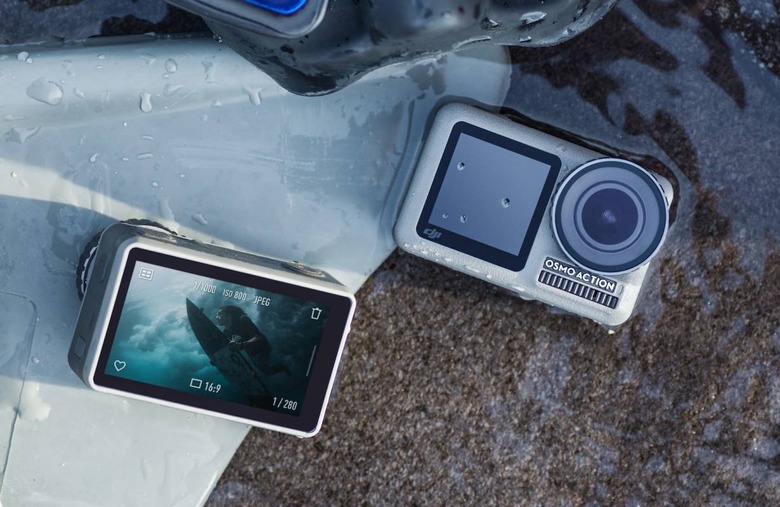 The camera itself uses a 1/2.3-inch sensor, good for 4K video at up to 60fps at 100 Mbps, or 12-megapixel photos. It's paired with a three-glass aspherical lens and given two layers of anti-fingerprint coating and an anti-reflective coating.
Unsurprisingly there's no room for a mechanical gimbal inside, but DJI has used its Electronic Image Stabilization (EIS) system, RockSteady. Notably, that will work even when recording at the maximum resolution and frame rate. HDR video at 4K/30fps is supported, too, with DJI promising three stops of dynamic range more.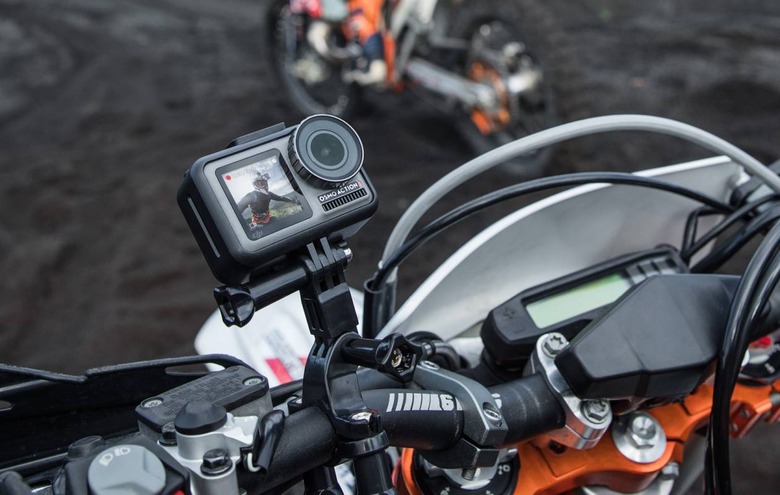 A Slo-mo mode offers 8x slow motion in 1080p/240fps, or 4x slow motion at 1080p/120fps. There's also a time-lapse mode, and the ability to set custom exposure settings. The latter allows for up to 120 second frames.
The removable battery is good for up to 93 minutes of 4K/30fps recording with RockSteady turned on. Without the EIS, and in 1080p/30fps mode, you're looking at 135 minutes, DJI says. There are dual microphones – which not only record audio in videos but allow for voice control – and a built-in speaker.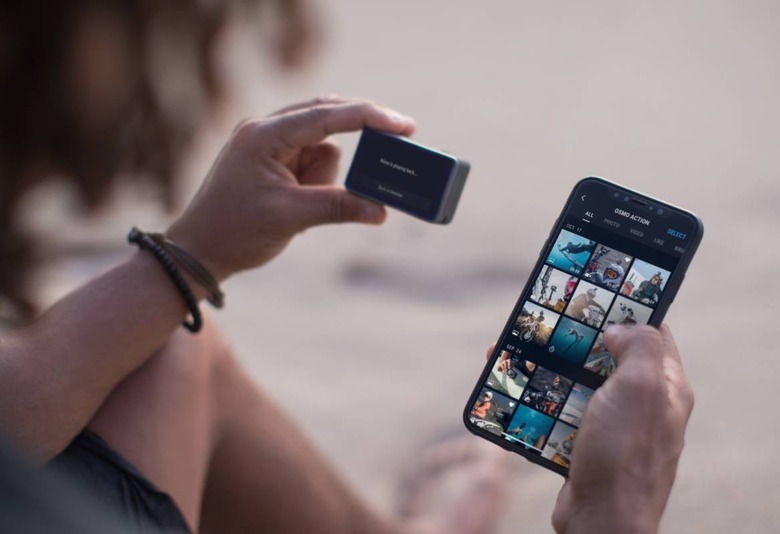 As you'd expect, there's support for the DJI Mimo app to connect the Osmo Action to a phone via WiFi or Bluetooth. That allows for live racing, story templates, quick edits, and other features. DJI has a host of accessories, too. The Camera Frame Kit mount is included with the camera, as are curved and flat adhesive mounts, but there's also a waterproof case, a 3.5mm microphone adapter, extension rod, floating handle for use in water, and multiple filters. A charging hub can recharge up to three batteries in under 130 minutes.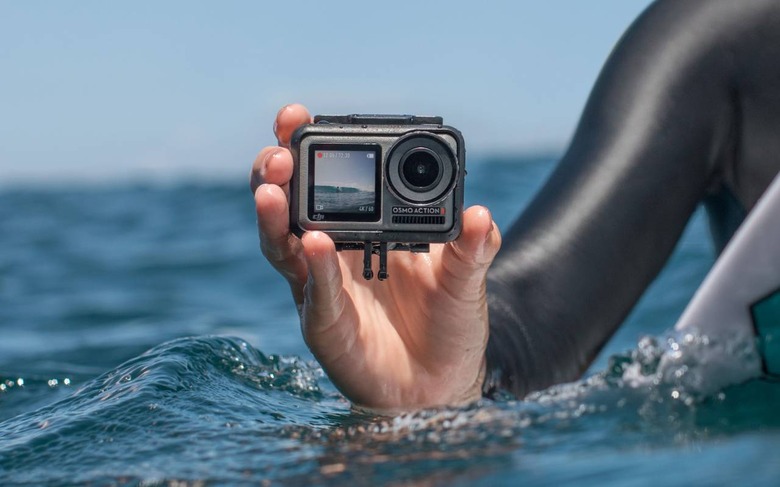 The biggest threat to GoPro may well be the price. The DJI Osmo Action lands at $349 and is shipping now. In contrast, the GoPro Hero 7 Black is $400.