DJI Mavic Air vs DJI Spark: Just that much better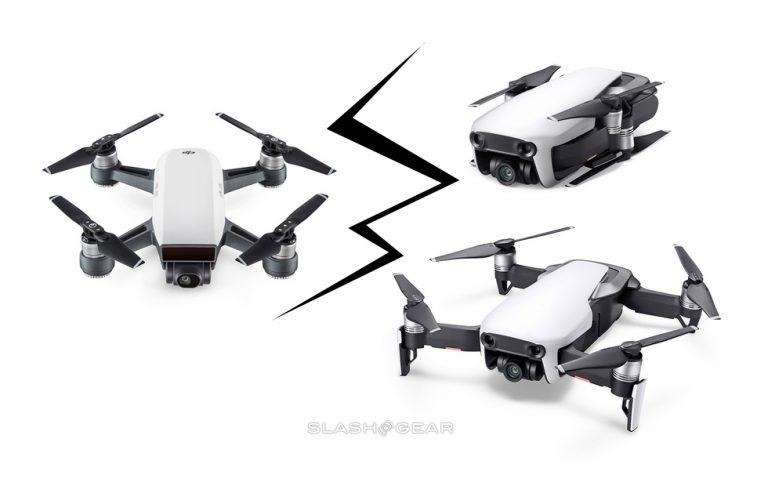 This week we're having a peek at the new DJI Mavic Air vs the slightly older DJI Spark. Both devices are small, and both are ready to roll almost anywhere a drone-flying user might want to fly. The Mavic Pro is the most popular super-portable drone from DJI, and the Spark is their smallest. The Mavic Air fits right in-between the other two.
The Spark is tiny and has fewer features than the Mavic Air. The Spark is meant to be a ready-to-roll drone that you can just toss out and fly with, while the Mavic Air is meant to be a little more involved – and full of feature improvements over the Spark. The Mavic Air has foldable parts to get super-small whilst traveling, while the Spark does not.

Mavic Air weighs just a bit more than the Spark, at 430 grams vs 300 grams respectively. Mavic Air is a little larger than the Spark, at 168 x 184 x 64 mm unfolded (168 x 83 x 49 mm folded.) The Spark is 143 x 143 x 55 mm. With the additional size comes more power and more ability to fly longer, and higher.
The Mavic Air has a 21 minute max flight time, while the Spark can fly for 16 minutes. The smaller Spark has a 2km range while the Mavic Air's range is 4km. Mavic Air's maximum flight ceiling is 5,000 meters, while the Spark's is 4k. Both drones can fly in winds up to 22 miles per hour and stabilize with relative ease.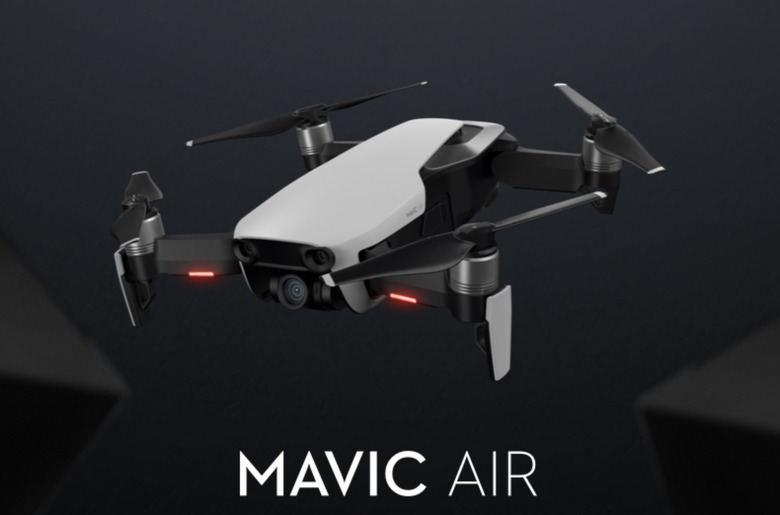 While the Spark can fly at a maximum speed of 31mph, the Mavic Air cruises at 42mph. That super speed comes in the Mavic Air's "Sport Mode" – so make sure you're rolling with that if you're wanting to smash into a wall with MAXIMUM EFFORT!
Both drones have 12MP f/2.6 cameras, but the Mavic Air's camera setup has a few more features. Both have 1080p video capture abilities at 30fps, but the Air has 1080p at 120fps (slo-mo) and 4K video at 30fps. The Air also has the ability to capture photos in HDR. The Air has a couple of new QuickShot modes for video: Asteroid and Boomerang.
Both drones have DJI's own ActiveTrack feature, allowing the user to track one specific object or person. The Air has an "improved" system that's able to detect several subjects at once. Air has a new Advanced Pilot Assistant system that automatically moves aside from obstacles. The Air has an improved obstacle detection system that reaches up to 20 meters away.
The Spark comes in more colors than the Mavic Air – but perhaps only here at launch. Spark comes in Alpine White, Sky Blue, Lava Red, Meadow Green, and Sunrise Yellow. Mavic Air comes in Alpine White, Onyx Black, and Flame Red.
Pricing on these units is as follows:
DJI Spark drone only for $399 / £449
DJI Mavic Air basic kit for $799 / £769
DJI Mavic Air Fly More combo for $999 / £949
The standard Air basic kit includes the drone itself, carrying case, one battery, one remote control, 2x pair propeller guards, and 4x pair of propellers. The Air "Fly More" combo includes the drone itself as well as 3x batteries, 2x pairs of propeller guards, 6x pairs of propellers, a remote control, travel bag, one battery to power bank adapter, and one battery charging hub. Deciding which drone you'll want is much like choosing a graphics card: There's a machine for every user, with every level of power, at every price point. Figure out what you want the drone to do, and DJI seems to have one right there waiting for you.