DJI Matrice 600 M600 drone offers muscles for pro filmmakers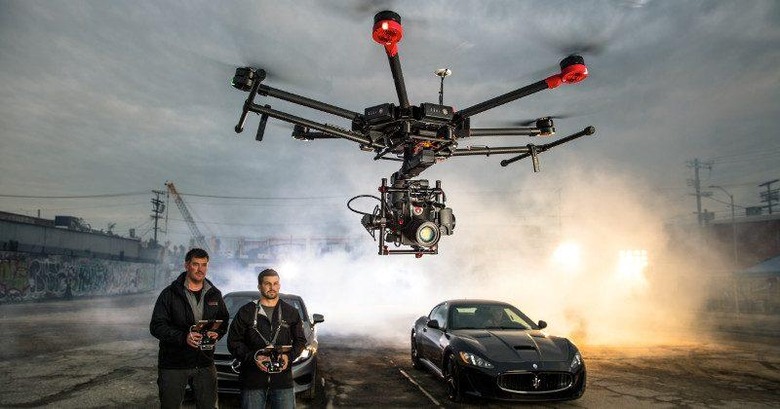 Drones are so common these days that almost anyone and everyone can have them, from tiny machines no bigger than your palm to hulking masses that sometimes provide a formidable target practice for birds. DJI, one of the biggest names in the drone market, has just released yet another drone. But don't let the Matrice 600's unassuming name fool you. This aerial platform easily dwarfs others in the market, not just in appearance but also in power and, of course, in price, making it a drone truly designed to help professionals showcase their creativity.
The Matrice 600 or M600 is an aerial platform aimed at professional photographers, filmmakers, and industry workers. What that means in practice is that the drone has all the power to carry professional and heavy cameras and electronics and still maintain its height in the air for as long as 30 minutes. The six-rotor system can carry a maximum payload of 6.0 kg. While that may seem almost too much, it is definitely needed as the M600 is compatible with DJI's full range of Zenmuse and gimbals, including the Zenmuse X and the Z15 line. With the equally new Ronin-MX, you can use even more professional cameras. The six DJI Intelligent Batteries provide not just power but also redundancy should a battery fail. With a Zenmuse X5, it can fly up to 36 minutes. With a larger camera, 16 minutes is the safe duration.
But just because the M600 is powerful and fully-featured doesn't mean it will be complicated to use. It was also designed to let you easily set it up and get flying as soon as possible. Especially with the new A3 flight controller, keeping the drone within control is also a breeze. The landing gear is retractable so that it doesn't get in the way of full 360-degree footage, while the propulsion is made dustproof for easier maintenance. The M600 can be controlled easily from the DJI GO app, even including setting the camera focus, depending on the gimbal and camera used. It also supports HD quality live feeds, up to 1080p.
The DJI M600 doesn't perform its mighty feats alone, however. Built into the drone is the company's totally new A3 flight controller, which also offers Lightbridge 2 video transmission. Thanks to a variety of technologies, the A3 can keep the M600 safe and controlled when in flight. The A3 can also be upgraded to an A3 Pro, which adds six Global Navigation Satellite System (GNSS) units and three inertial measurement units (IMU) for even more accurate flight controls. But wait, there's more! You can even upgrade the upgrade to add DJI's Real-Time Kinematic (RTK) tech for centimeter-accurate positioning.
Although optional, the Ronin-MX three-axis aerial video stabilization gimbal is almost an essential part of the new M600 platform. Although it can be used by hand and in different modes, it is almost a perfect fit for the M600 drone. It allows other cameras and accessories to be used with the M600, including DJI's wide range of accessories for long-distance focus and aperture control. Although it has its own built-in components, like its own IMU, Bluetooth, and 2.4 GHz receiver, its CANBUS connection allows it to share data with the A3 flight controller when mounted on the M600.
The DJI Matrice 600, which already comes with the A3 flight controller built in and a full set of six batteries, retails for $4,599. The Ronin-MX alone costs $1,599, but bundled together, DJI's complete professional aerial platform will sell for $5,999.