DJI Inspire 2 and Phantom 4 Pro drones go up for preorder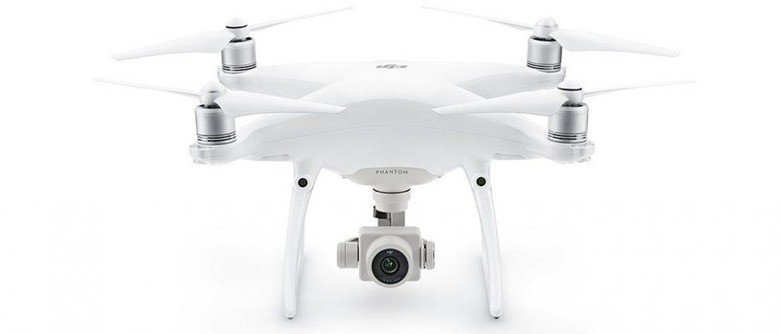 DJI has announced the new Phantom 4 Pro and Inspire 2 drones. Both items are available for preorder now, and they target serious filmmakers and others who need to record high-quality aerial footage. The Phantom 4 Pro boasts a camera with a 1-inch 20-megapixel Exmor R CMOS sensor. The Inspire 2, meanwhile, has a couple camera options as well as a top speed of 67MPH. This follows the recent launch of the DJI M600 Pro.
The DJI Inspire 2 (shown below) is a powerhouse of a drone; it has support for both the Zenmuse X4S and the X5S cameras, as well as a top speed of 67MPH and a 0 to 50MPH time of only 4 seconds. This model features a new dual-battery system that offers up to 27 minutes of flight time per charge. In addition to the Zenmuse camera, the Inspire 2 features an integrated forward-facing camera for FPV footage or easier operation.
The Zenmuse camera is gimbal-mounted, but DJI says the drone will support other camera models in the future. The drone is no doubt targeted at filmmakers and commercial enterprises, boasting 5.2K-resolution video captured at 4.2Gbps in Adobe's CinemaDNG RAW. The raw footage can be compressed to Apple ProRes 422HQ, ProRes 4444 XQ 4K, H.265 and H.264. There's also support for recording directly in either of the latter two at 4K resolution.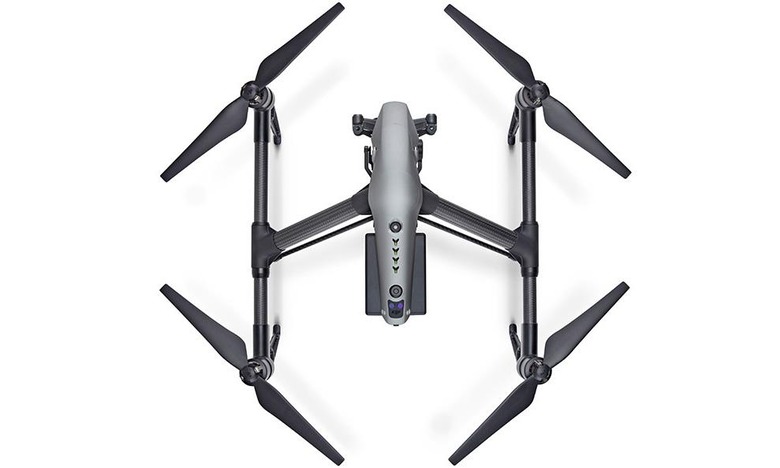 The new Phantom 4 Pro is the cheaper of the two options, though no less suitable for professional users. This model features that aforementioned 1-inch Exmor camera sensor, as well as a dynamic range of nearly 12 stops, the promise of 'unprecedented' low-light footage (as far as drones are concerned), and the ability to capture up to 4K video footage at up to 60 frames-per-second.
The camera has a top bitrate of 100Mbps, and it supports H.265 compression for keeping video quality very high. This drone has a top speed of 45MPH in sport mode, and can fly at 31MPH in P Mode with the obstacle avoidance tech active. Flight time ranges up to 30 minutes per charge. Other features include support for 2.4GHz and 5.8GHz, as well as a controller with HDMI, microSD, compass, and GPS.
Price & Availability
You can preorder both of the drones from DJI's website now. The Inspire 2 combo with a Zenmuse X5S camera and license key for CinemaDNG and Apple ProRes is $6,198 USD, though the price is a lower $5,999 USD for those who order before the first of January. Shipping is expected to start early next month. The drone without the combo is $2,999 USD.
The Phantom 4 Pro, meanwhile, costs $1,499 USD if you get the standard controller, or $1,799 USD if you get the Pro+ with the high-luminance display controller. This price includes tax and shipping.