DJI bets the farm on new MG-1 agricultural drone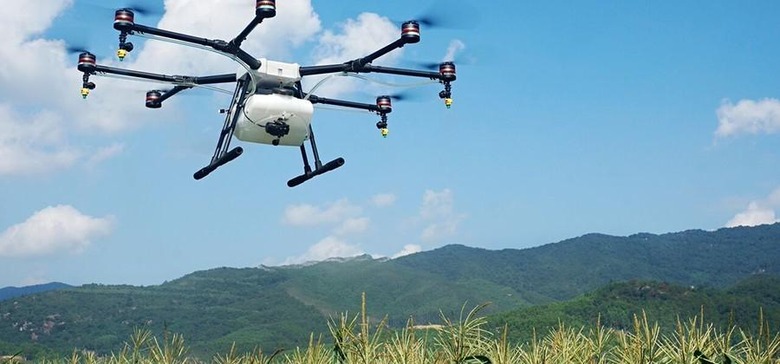 Drones aren't just geek toys and glorified couriers, and DJI is putting UAVs to work with the new Agras MG-1. Intended for agricultural duties, the water-resistant and anti-corrosive treated drone has eight rotors and a 10kg tank to take it crop-spraying, good so DJI claims for up to ten acres of coverage per hour of flight.
That makes it more than forty times more efficient than manual spraying, so the company says, courtesy of things like speed-sensitive spraying intensity that automatically adjusts flow depending on how fast the MG-1 is flying.
Top speed is eight meters per second, with auto-altitude control taking into account the height of the plants underneath. Spraying itself can be done automatically, semi-automatically, or manually.
Four ceramic nozzles – user replaceable – handle actually deploying whatever the crops are being sprayed with, and DJI says that the rotors' downward airflow actively helps liquid to reach the soil.
Meanwhile, there's a sealed body and new cooling system that can supposedly keep the interchangeable motors running for up to three times as long. A filtered front inlet removes spray, dust, and other particulates from the air used to cool to motors down.
Like a smart robot vacuum, when the MG-1 has to pause its duties to return home to recharge, it'll intelligently resume where it left off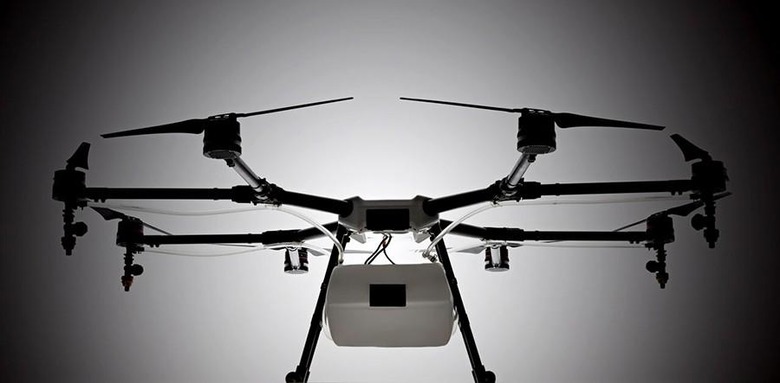 The Agras MG-1's body is sealed, and features an integrated centrifugal cooling system designed to extend motor life by up to three times. Triple-filtration cuts off intake of mist, dust and large particulates to reduce wear from impurities. As the drone flies, air enters the aircraft body via the front inlet, is filtered and passes through each of the aircraft's arms to the motors, capturing heat from all components and the entire structure. Heat is then dissipated by venting into the surrounding air.
The drone's intelligent memory function means after the Agras MG-1 is brought back to base for refill or recharge, it will return to its last memory point to pick up spraying where it left off.
DJI initially plans to launch the Agras MG-1 in China and Korea, with "other markets" coming later on.
SOURCE DJI