DJI action camera tipped to compete with GoPro HERO products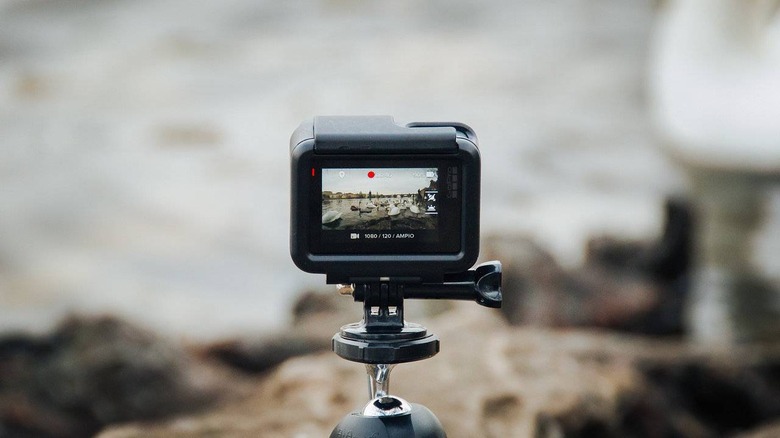 Chinese drone company DJI is developing its own action camera, according to a new leak, one that will allegedly compete with GoPro's flagship HERO models. The camera is expected to be based on the company's existing OSMO Pocket super-wide handheld camera, and one image has leaked showing what the model may look like. DJI has not confirmed the camera's existence, however.
DJI's current OSMO Pocket camera is considerably different than GoPro's action cameras, which set the bar for what is popularly viewed as a distinct 'action camera.' The OSMO Pocket has a vertical design with a three-axis stabilized camera head and small display. While convenient, it isn't quite what some have in mind for a dedicated action camera.
In contrast, GoPro's HERO action cameras are primarily of the rectangular sort, with front-facing lenses, a rear display, and a minimal number of buttons. The camera can be placed within a durable housing for use in precarious environments: strapped to a bicycle, attached to a balloon, or taken underwater, for example.
It's those models that DJI's leaked action camera may compete with, at least according to the source. The tip surfaced from Twitter user 'OsitaLV,' which has a decent history with successfully leaking DJI products before they're launched.
I heard some rumors about a new DJI action camera to compete with GoPro.
Technically there is no problems, by repackaging OSMO Pocket with super-wide angle lenses.
True or not?
What about OSMO Pocket if this thing really came out?

— OsitaLV (@OsitaLV) April 24, 2019
An anonymous Twitter user under the handle "AbuCelal" then shared a screenshot of two images, both featuring an unknown action camera, that may be the alleged DJI action camera model. The origins of that image remain unknown, however, and the entire leak should be considered with caution until DJI provides an official statement.