DJ Control MP3 from Hercules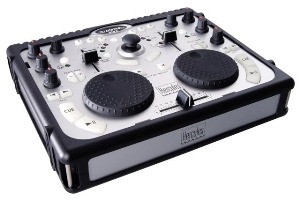 Hercules is now reaching out to all aspiring DJs of any age with its new DJ Control MP3.  This is a great gadget for those of you who are want to try your hand at mixing and remixing tunes like a real DJ.
With the Mixing software that includes an easy to mix multiple tracks together, or if you're more interested in real time mixing this station allows you to mix two tracks with one controller on the fly. There is no need to worry about it not being compatible there are many files that you can mix and scratch including MP3,CD,WAV,WMA, and AIFF. With their "No mouse needed" you are able to use one stick to browse in playlists and one button to load tracks into a deck.
This easy to use and lightweight mixer makes you sound like a pro without all of the messy wires and bulky equipment. This until is lighter and smaller than a laptop and is powered by USB allowing you to mix in the comfort of your own home or at a local event. The Hercules DJ Control MP3 is priced at a low $129.99 and can be found at www.hercules.com, J&R Computer World, Costco and more.