DIY Shopping Cart Go-Cart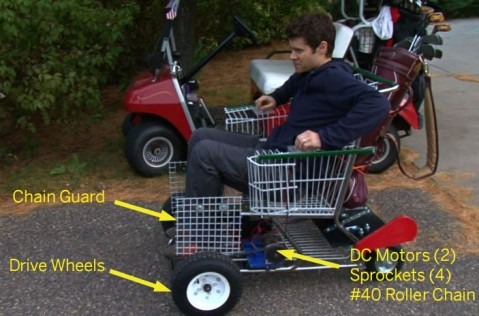 It's almost the weekend, which means only one thing: a desperate race to find an all-consuming project lest one be found for you by your nearest-and-dearest.  You could do a lot worse than put together a Shopping Cart Go-Cart, the entertaining end-result of MAKE's shopping cart chair tutorial.
Video demo after the cut
Even if you're not planning on recycling an old shopping cart into a new piece of furniture (or a motorized cart to terrorize the local kids in), it's a useful tutorial in how to cut, bend, and shape metal using metal cutters, saws, vice grips, and other tools common to home workshops.  Obviously we'd join with MAKE in suggesting that you use an old, expired shopping cart rather than "permanently borrowing" one from your local market.
I'm not entirely sure that I appreciate the aesthetics of the cart-chair to give it room in my lounge, but I could certainly imagine its motorized cousin in my garage.  Well, that is, if I had a garage; perhaps building one of those should be my first weekend project.