Disney's Star Wars: Galaxy Edge Park Detailed Ahead Of Opening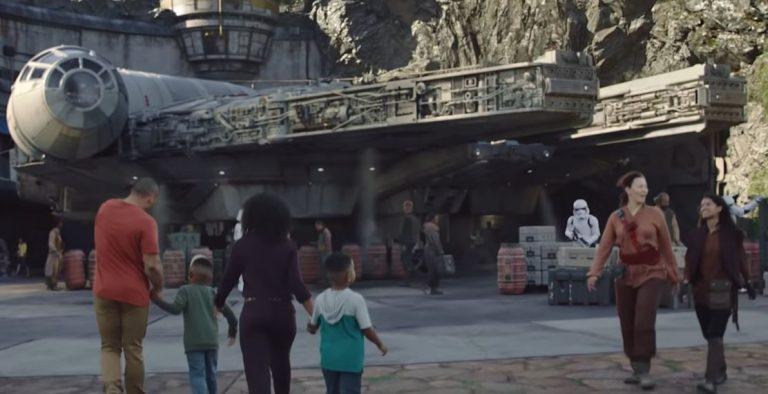 Disney has been working on its Star Wars theme park, Galaxy's Edge, for a few years at this point, but we've still got several months to wait before it opens at Disneyland and Disney World. Thus far, Disney hasn't talked a ton about Galaxy's Edge, but in a new behind-the-scenes video, it's giving us some details about two of the park's rides, Millennium Falcon: Smuggler's Run and Star Wars: Rise of the Resistance.
Obviously, the video is more a promotional one that doesn't really give us an in-depth behind-the-scenes look, but those who are looking forward to Galaxy's Edge will still want to check it out. Even if you don't get anything else out of it, you at least get to hear some of the score that the legendary John Williams is composing for the park.
In Smuggler's Run, parks guests hop aboard the Millennium Falcon and apparently get to control some aspect of this ship from the cockpit. Disney Imagineering creative executive Scott Trowbridge describes it as an "intense" experience, but unfortunately, that brief description is all we're getting for now.
Trowbridge goes onto say that Star Wars: Rise of the Resistance is "the most epic attraction we've ever built," which sure makes it seem like it'll be the main attraction in Galaxy's Edge. We don't learn much about this ride either, but Disney does say that it'll put riders at the center of the conflict between the Resistance and the First Order, even bringing them face-to-face with Kylo Ren at one point.
Though Disney's video isn't as in-depth as many of us would like, we can probably expect the marketing for Galaxy's Edge to begin ramping up soon. The new park is scheduled to open in Disneyland in summer 2019, while the Disney World park won't be opening until a little later in autumn. We'll keep our eyes peeled for more information, so stay tuned.