Disney's prototype 3D printer makes things from soft fabric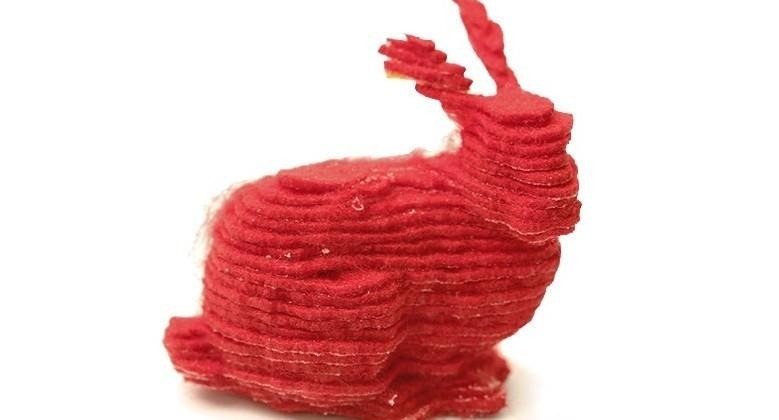 As the 3D printing boom continues, there's one thing that is almost always the same: objects are printed from rigid plastic. How are we supposed to print soft, plushy things like stuffed animals from that kind of material? Well, the folks at Disney Research are way ahead of you, as their new prototype 3D printer is able to produce flexible things made from fabric. Instead of normal 3D printers that use plastic, adding portions of the material in specific spots, Disney's machine cuts shapes in sheets of fabric, which are then layered on top each other.
The machine works as a combination of a 3D printer and a laser cutter. Items are made in a two-step process that is meant to imitate the sewing or layering processes needed for fabric. Starting with sheets of adhesive felt, the laser cuts out 2D shapes, leaving the fabric around the shape in order to easily attach it to the next sheet.
When all the sheets are finished, they are stacked atop one another, appearing as a block before the excess fabric is pulled away. You can see the full process demonstrated in the video above, resulting in a soft red bunny.
The technology is still a long ways from showing up in consumers' homes, which is probably for the best, as printed items don't look like they could stand up to a typical child's play. Then again, it seems perfectly suited for a company like Disney to use for producing mock-ups of stuffed toys, so it may not be intended for life outside the lab.
SOURCE Disney Research