Disney Movies Anywhere embraces Amazon, Microsoft, Android TV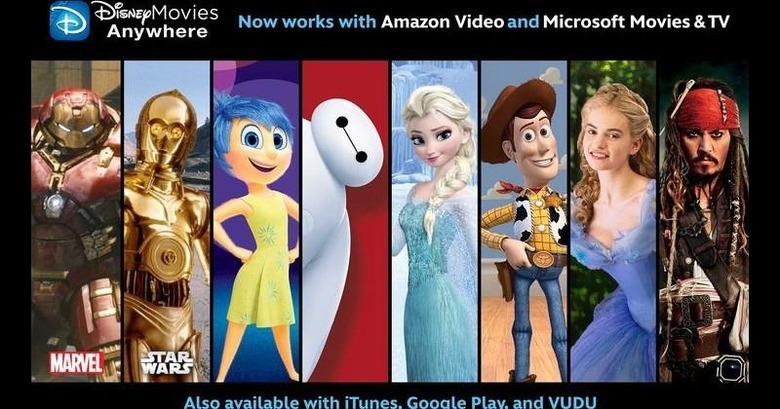 Last year, Disney freed its Movies Anywhere from the walled garden of iOS and made it available on Android via Google Play Store. Now Disney is once again putting an emphasis on the "Anywhere" part by spreading the app to almost everywhere. In two phases this month, the entertainment giant will launch Disney Movies Anywhere on several platforms and devices, including Amazon's, Microsoft's and Roku's. It will also once again dip its toes into Android by supporting the rather new Android TV version of Google's operating system.
The first stage has already happened. Disney Movies Anywhere or DMA is now available for customers of Amazon's Video subscription and Microsoft's Movies & TV service. In practice, this means that DMA is now available to be installed on Amazon's Fire tablets, Fire TV, and Fire TV Stick and is also available on the Xbox 360. But even if they don't have the apps, they can actually access their Disney movie collection directly from Amazon Video and Microsoft Movies & TV.
Then starting September 15, the Movies Anywhere app will also be available on Roku's platform as well as officially on Android TV. This is all in addition to the app's availability on iOS, Android in general, and even Walmart's VUDU platform.
Spreading to more devices and more platforms demonstrates Disney's total embrace of a business strategy that is becoming prevalent in the digital media industry. Instead of confining purchased content to a single device, usually the device where it was purchased, most content providers are now making legitimately bought content available on almost any platform that offers the official app.
Disney's move is also timely as it prepares to take the headlines again both with its existing blockbusters and upcoming hits. Marvel's Avengers: Age of Ultron was just made available on DMA and Cinderalla will be joining the party on September 15. The upcoming Star Wars Episode VII: The Force Awakens will also most likely spark interest in Disney's digital collection.