Disney Crossy Road Is Coming, See Mickey Mouse Run For His Life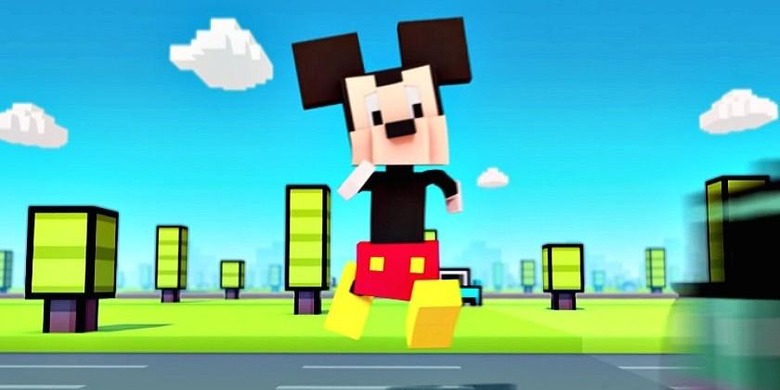 The hit mobile game Crossy Road may not have answered why the chicken wanted to cross the road, but at least now we can ponder why Mickey Mouse wants to do the same. Revealed at GDC 2016 earlier this week, Disney Crossy Road will see the world's most famous mouse, along with over 100 other Pixar and Disney characters, running into traffic on iOS and Android in the near future.
The result of a collaboration between Disney and Crossy Road developers Hipster Whale, the new version of the game keeps the simplistic, Frogger-like gameplay and charming 8-bit graphics of the original, but adds a bit of that Disney magic. It also lets you see Mickey and the others get run over by a car over and over again.
While the Crossy Road gameplay and look remain the same, there will still be new content for Disney fans to enjoy. Aside from Mickey, the only other character mentioned out of the 100 that can be unlocked is Donald Duck, however there will be nine themed worlds from the Disney universe, each with their own unique 8-bit soundtrack.
In addition to familiars from the Pixar universe, the game is likely to include at least a few characters from the Star Wars Universe — who wouldn't want to try navigating BB-8 safely through traffic? Let's hope we see Rey and Finn in there too.
SOURCE Disney Games