DirecTV working on bringing internet to your house via power lines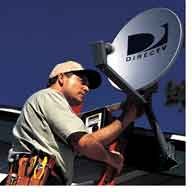 DirecTV has announced that they are currently working on bringing high-speed internet to your house. Not from their satellites orbiting the earth, but through your power lines.
The TV provider has been feeling pressure from cable companies such as Time Warner and Comcast who have been bundling internet services for years.
What is interesting is that they are considering partnering with rival satellite TV provider EchoStar to develop a national broadband system.
DirecTV working on broadband service [via tgdaily]