Digital Storm BlackOPS Gaming PCs Utilize NVIDIA's 3D Vision for Total Immersion Gaming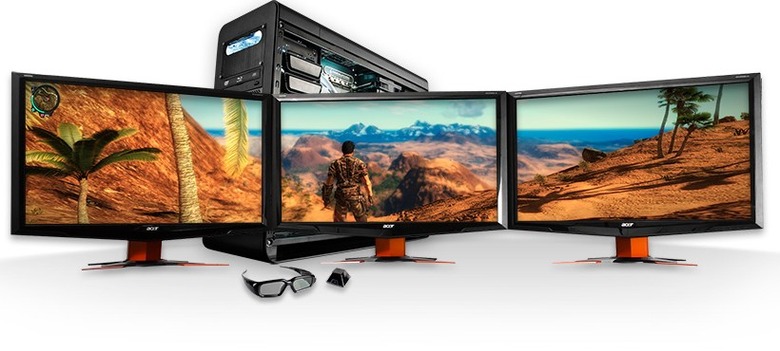 When you're playing a video game, you want to feel like you're actually in there, doing stuff. And while playing on your huge HDTV may be one way to get that done, there's another way to make sure that you get the full experience. 3D, of course. And, when you start using your multi-display rig to get totally immersed, you'll finally understand what it's like to be jumping around your favorite video game world.
Digital Storm's gaming PCs are no stranger around these parts. The BlackOPS lineage of hardware has been around for quite some time, and they've always utilized the best hardware to stay at the top of the pack when it comes to avid PC gamers. Now, with their announcement that they'll be utilizing NVIDIA's 3D Vision to bring in a new world of gaming, even more doors are opening up.
Utilizing NVIDIA's GTX 400 Series GPUs, you'll be able to experience 750M pixels/second, spread out over three displays, in breathtaking full 1080p HD 3D. That would put the resolution at 5760x1080, by their count. And, thanks to NVIDIA's intelligent software, it will take care of automatically converting over 425 gaming titles into stereoscopic 3D, which means you won't have to download any special patches or anything.
Digital Storm's BlackOPS gaming PCs with NVIDIA's 3D Vision Surround Technology are available right now, if you're ready to drop the cash for them. You can order them via Digital Storm's site, and the base price starts at $2,833. That's without any other options you may want.
Press Release
Fremont, Calif. – (August 2, 2010) – Digital Storm, the predominant name in computer system integration and engineering, proudly ushers in the future of total immersion gaming with 3D Vision™ Surround Technology and the ultimate gaming PC – Black|OPS.
For the first time ever, NVIDIA's 3D Vision™ Surround Technology expands gaming real estate across three monitors in full HD 3D for the most immersive gaming experience ever. With this breakthrough, gamers can expand their view of in-game action, allowing them to see enemies sooner, get a complete survey of strategy games, and race their cars even faster than before.
Those who have never played on a 3D gaming system across three 1080p displays should be prepared to have their breath taken away. NVIDIA's GeForce GTX 400 GPUs generate the graphics horsepower to drive 750M pixels/second for 3 screens in full HD 1080p 3D Vision gaming for an incredible 5760×1080 experience. In terms of compatibility, NVIDIA's intelligent software automatically converts over 425 games to stereoscopic 3D without the need for special patches.
Setting up a Black|OPS machine with 3D Vision™ Surround Technology is simplified thanks to NVIDIA's multi-display software. No adaptors are required as 3D Vision works with standard monitor cables and a setup wizard guides gamers through setup and allows bezel correction to enable a seamless display experience. Further, advanced GPU synchronization ensures seamless support and maximum frame rate.
"The total immersion one experiences when gaming on a multi-screen 3D system is the most remarkable gaming experience, words do it no justice," commented Rajeev Kuruppu, Digital Storm's Director of Product Development. "For first-person shooters and strategy games, multi-screen 3D gives gamers a Pentagon-grade gaming experience that is vastly superior to anything else on the market. 3D technology represents the future of gaming and Black|OPS systems are the perfect platform to experience it on."
Digital Storm's Black|OPS gaming PCs with 3D Vision™ Surround Technology are available for purchase at www.DigitalStormOnline.com/3dpc.asp with a base price of $2,833.
For images or additional information, please contact Digital Storm Media Representative Brian Metcalf at brianmetcalf@maxborgesagency.com or 305-576-1171 x11.
To learn more about Digital Storm's complete product offerings, please visit www.DigitalStormOnline.com