Digital Storm Black|Ops Assassin vertically cooled PC debuts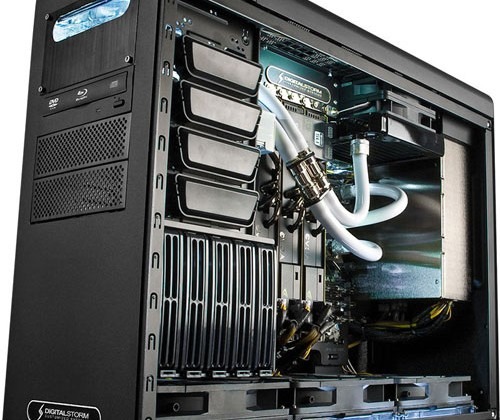 Digital Storm has been making desktop and workstation computers for a while now and we have talked about some of them like the DAVINCI workstation in the past. Digital Storm has debuted a new desktop PC called the Black|OPS Assassin.
The new machine uses a liquid cooling system that Digital Storm called the Sub-Zero system, which obviously is incapable of chilling the CPU to sub zero temperatures. The company claims that the liquid cooling solution is capable of allowing the CPU to be overclocked to 4.4GHz and higher.
The machine is available in performance, enthusiast, and extreme versions. All of the versions use the Intel Core i7 930 2.8GHz CPU and 6GB of DDR3 RAM. The EVGA X58 motherboard and a 750W PSU is also used in each system. The performance version has a GTX 470 video card, the enthusiast version has a HD 5870 video card, and the extreme has a GTX 480 video card. Pricing starts at $2387, $2535, and $2693 respectively.