Digifriends M3 MID release in 2H 2009 with NextWave WiMAX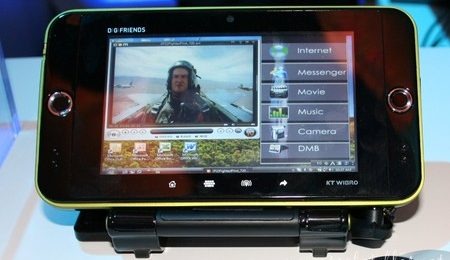 After hopes were raised and then dashed back in June over the potential US release of the Digifriends WiMAX MID, now comes word that the company has partnered with NextWave to globally launch the compact modular device as the Digifriends M3.  The MID will be based around NextWave's NW2000 chipset (as seen in the dmedia G400, meaning 3D graphics acceleration and video decoding) together with an Intel Atom CPU.  Primary control is via the 4.8-inch 1024 x 600 WSVGA touchscreen, but there are a number of 'stands' with various QWERTY keyboards, speaker arrays and other controls.
NextWave are claiming they'll be releasing the device in the second half of 2009.  There's no word on which accessories will be available at that point – initially Digifriends suggested that GPS would be an option, together with a secondary screen.
The specifications of the MID are yet to receive any other boost from those originally quoted earlier in the year.  That means a 1.2GHz Silverthorne CPU, 1GB of RAM, either 30GB or 60GB 1.8-inch hard-drives and a 2-megapixel camera.  Hopefully those drives will get swapped out for some solid-state memory instead, now that SSDs are more common in mobile devices.
[via pocketables]
Press Release:
Digifriends, NextWave Wireless Announce WiMAX Device Collaboration

Digifriends to Deliver Feature-Rich, Mobile Internet Device – Powered by NextWave's WiMAX Chipset; Sparking WiMAX Excitement through the Proliferation of New Multimedia Device Possibilities

SAN DIEGO–(BUSINESS WIRE)–

On a mission to accelerate global WiMAX adoption, Digifriends Co. Ltd., one of Korea's leading mobile WiMAX and portable multimedia device makers and NextWave Wireless Inc. (NASDAQ: WAVE), a global provider of wireless broadband and mobile multimedia products, announced today the development of a sophisticated, WiMAX-enabled Mobile Internet Device (MID) – the M3 – powered by NextWave's NW2000 WiMAX chipset. Expected to debut in 2H 2009, the much anticipated MID will bring new mobile multimedia features to the palms of global users, by tapping the power of WiMAX to deliver higher-speed access to next-generation content and services.

The Digifriends–NextWave relationship symbolizes the innovation WiMAX will bring to the international marketplace. By focusing on the development of robust, feature-rich devices that leverage the advantages of WiMAX connectivity, the two companies expect to advance end-users' mobile multimedia experiences, expand operator service innovation, and spur WiMAX adoption, globally.

Embedded with NextWave's Wave 2-ready "No Compromise" NW2000 WiMAX chipset, the M3 MID is optimized to deliver outstanding performance of bandwidth-intensive mobile multimedia applications, including advanced gaming, streaming video of user-generated content, video conferencing/chat, Voice-over-IP (VoIP) and, where supported by operators, NextWave's MXtv(TM) mobile broadcast over WiMAX feature. The M3 also allows for high-speed Internet browsing, integrated WiMAX-WiFi-Bluetooth connectivity and offers a number of distinctive add-on accessories and peripheral components, including a keyboard, stand and speakers, to further extend WiMAX-powered service opportunities.

"We expect to see an explosion of consumer and operator excitement for WiMAX in 2009, fueled by the introduction of innovative devices – like the M3 – that offer end-users a completely new mobile multimedia experience," said Byung Kang Park, CEO, Digifriends. "We are confident that the M3's entry into the global market will accelerate the path to WiMAX, as it offers unique features that leverage the innovative technology found in NextWave Wireless' WiMAX chipset."

"As the WiMAX market matures and the demand for devices grows stronger, device manufacturers, like Digifriends, will need to distinguish themselves in the market by delivering solutions that exceed end-user and operator expectations," said James Brailean, Ph. D., CEO, Mobile Products Division, NextWave Wireless. "We believe our WiMAX chipset is that distinguishing factor, and will set Digifriends' M3 Mobile Internet Device apart from other WiMAX devices available. Our chipset was designed with a "No Compromise" approach so that once embedded into a device, users can experience a full mobile multimedia experience without compromising on features, performance or battery life."

NextWave's NW2000 family of advanced mobile WiMAX chipsets is ideally suited for high-volume, small form-factor wireless broadband devices. The chipset includes an 802.16e-based mobile subscriber baseband System-On-a-Chip (SoC), and complementary single-chip, highly integrated, multi-band Radio Frequency (RF) transceivers, offering optimized dual independent receive chains for mobile applications. Evaluation/System Development Kit samples were made available in Q2 2008, enabling wireless device manufacturers the opportunity to quickly and cost-effectively develop mobile WiMAX products.

Other exciting features of the M3 MID include: a 1.3-inch hard disk drive with capacities rated at between 30 and 60GB, and two built-in digital cameras – a 2MP camera for capturing still images and a 0.3MP Webcam on the screen side – empowering users with mobile video chat functionality.

Additional information about Digifriends or NextWave can be found online, respectively, at: www.digifriends.net, www.digifriendsusa.com, or at: www.nextwave.com.

About Digifriends

Digifriends has been a leading enterprise in the WiBro/mobile WiMAX business since 2005 and is currently preparing to freshly embark on the WiBro/mobile WiMAX Era outside South Korea. Digifriends is a leading mobile WiMAX and portable multimedia product system maker in Korea. Digifriends has its own design, hardware developing system, WiMAX(WiBro) module, miniCard, USB modem and portable device technology with more than 6 years of experience. With this experience Digifriends has become the standard in Korea for MID production and development. Digifriends is taking revolutionary steps in embarking in the global market. Please visit Digifriends at www.digifriends.net or Digifriends USA at www.digifriendsusa.com.

About NextWave Wireless

NextWave Wireless Inc. (Nasdaq: WAVE) is engineering the future of mobility by providing next-generation mobile multimedia and wireless broadband technologies to the world's leading mobile handset manufacturers, consumer electronics manufacturers and wireless service providers. From mobile television and mobile broadband systems to semiconductors and device-embedded mobile multimedia software that can be found in more than 250 million handsets around the globe, NextWave is evolving the way consumers experience mobile multimedia content. For more information, visit NextWave at www.nextwave.com.