Diesel DZ9044 Pushes Time To The Edges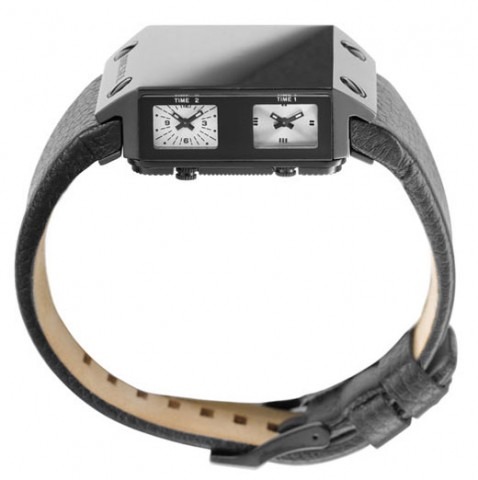 We're used to Tokyoflash watches being troublesome to decipher, but this Diesel DZ9044 may end up hurting your wrist, not your brain.  Rather than put the dial on the front, Diesel have slipped four tiny watch-faces onto the left and right sides of the timepiece, meaning you may have to get used to bending your wrist every time you want to know if it's almost lunchtime.
It does mean you can keep track of four different time-zones on one watch, without resorting to a tacky Casio digital.  The watch is also water resistant to 10 ATM (approximately 330 feet), but let's face it, you're buying this Diesel for design not for paddling.
Two color options are available, either a model with a black leather strap and black ion-plated stainless steel, or a brown version – the DZ9045 – with a shiny finish.  Each is priced at a not-inconsiderable $365.
[via Technabob]