Diablo III's 8 smooth multiplayer boosts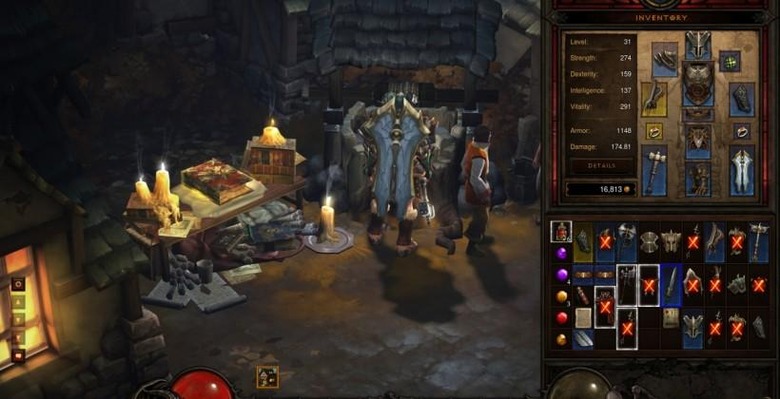 This week you'll find yourself downloading a rather sizable patch from Blizzard Entertainment for
, patch 1.0.8 for multiplayer improvements galore. What you'll be seeing is no less than 8 changes to the way you play – or will be able to play – in multiplayer. What Blizzard describes this update as coming at you as is "making two heads actually better than one!"
As it was back in Diablo II,
should be bringing the experience you're getting in Diablo III up to par – you'll find yourself running wild in single-player missions (still online, of course), but with friends you'll now have added benefits far beyond those you've seen before. Blizzard has made a number of changes to the game in this new patch, noting the following about the push:
"The point is that multiplayer can be lot of fun, but given the downsides it can often feel not worth the effort. By making it easier for players to find one another, improving social features, and providing direct buffs to co-op groups, we hope to change that perspective." – Blizzard Entertainment
Matchmaking Tags
With patch 1.0.8 you'll have the added option in "additional options" when making a new game right below your difficulty rating that allows you to "tag" the match. You'll be able to choose "no tag" or questing, brawling (PvP), Full Act Clear, or Key Warden. This will make it so you're rolling out with players aiming to blast forth with the same aims as you.

Multiplayer Bonuses
As you enter a multiplayer game, you'll find that Blizzard has added a 10% more XP boost per player for a max bonus of 30% more XP in a 4-player game. According to Blizzard, this bonus will be multiplicative with MP bonuses already in place.
MP10 with XP bonus in Inferno of 510% (plus normal 100% is 610%)
+ 4 player game with 3 other players in-game 30%
= 793% as much XP as normal
This also works with Magic Find and Gold Find, but with these you'll be able to surpass your until-now max of 300% of both. You'll get an additional "flat" 10% Magic and Gold find with each new player that joins the game.
Monster Health
Where before this week, each monster gained 70% extra health for each new player joining a game, you'll now find them gaining just 50%. The difference should be just enough to allow your tiny ill-equipped buddy to join your game and not be slaughtered instantly.
Identify All
Not just for your multiplayer experiences, this one button should make the process of looking at items you've collected with the greatest of ease. No more click, click, click for you! This was also a Diablo II staple returning for the D3 fun.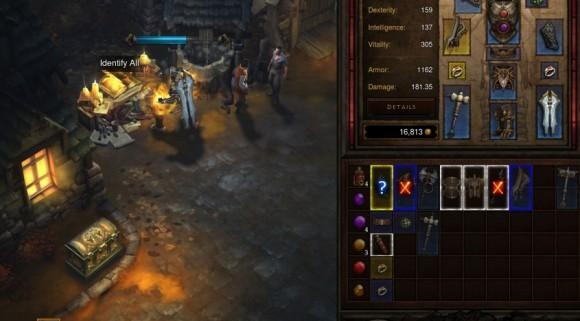 Archon Kills
Before this week, most Wizards may have been skipping multiplayer simply because kills didn't fuel Archon adequately – no kills, no magic! Here in 1.0.8, Archon duration is extended by assists. This means if you've even so much as thrown pin prick of a spell at a monster and are still around when it dies, your Archon duration will be extended.
Combat Alerts
Picking up on the trends seen in real-deal multiplayer games every day, Blizzard has decided to automatically alert all players in games when a player deals or takes damage from an Elite pack or Treasure Goblin for the first time. A new "combat" icon will appear on your mini-map, and combat icon will appear above your banner in town, too! Bad luck for those of you hoping to sneak into multiplayer games and fight by yourself!
Players Near You
You'll be given the same alerts (basically the same, anyway) as StarCraft II users get now when you've got players logged into Diablo III in your own local network. If you're playing at your College or hit up local internet hotspots where gaming is a norm, connections can be made real swift! Of course if you hate meeting people and want to play with users across the universe, you can still do so without a problem.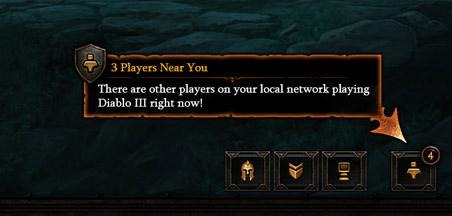 Private Chat
With patch 1.0.8 you'll be able to start your own private conversation – up to 99 players can join if you invite them. This is essentially the same thing you did in Diablo II when you created a room to have a chat in about what items you wanted to trade, or re-grouped after a fabulous battle. Chats ho!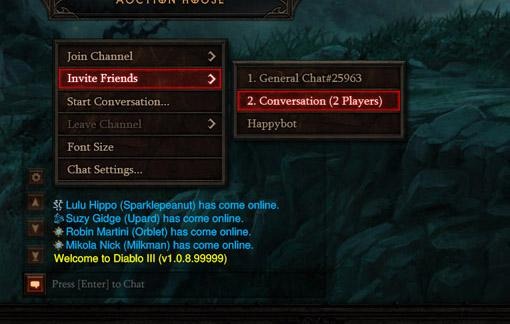 Wrap-up
This update will be pushed to you automatically starting this week – if you don't see the update, you'll likely see it in the next week or two. Those of you wishing to get in on the patch right this minute can head over to the
Diablo III Public Test Realm FAQ
and see how you can participate. Make with the clicks!