Diablo III patch 1.0.3 keeps the town safe

Though it's been a given that once you're in Tristram or any number of other towns inside the game in the past, Diablo III has had to be patched to keep the beasts at bay. Today's patch includes an extra portal at each end of the bridge from New Tristram to The Weeping Hollow in order to keep citizens of the town safe as well as to make it a bit easier for people to exit into the field of battle. Too bat everyone can't have the staff helicoptering powers of the Monk or this wouldn't be a problem!
Next the patch will have multiple plays of the same quest yielding smaller rewards each time – a change we're sure will be met with some major opposition by lovers of the big item drops. Finally the real-money auction house has been spread to Chilean, Argentinian, and Brazilian currencies. This comes in addition to the real money auction house officially – for real this time – being available for everybody in the Americas.
Diablo III's newest patch has a few more fixes in the mix as well, as outlined here:
General

• Friends will now sort alphabetically by name within the Friends List, first by Real ID and then by BattleTag

• The Quick Join menu will now also sort alphabetically by name, first by Real ID and then by BattleTag

• Chat settings and preferences will now be saved whenever you log out

• Reporting another player using the Report > Spam option will now mute that player for the duration of your gaming session

Bug Fixes

• Using the /who command in a heavily populated chat channel should no longer cause the client to crash

• The "Invite to Party" button should no longer become grayed-out if a player:

- Declines a party invite

- Requests a party invite and then declines it

- Accepts a party invite, but then immediately leaves the party

- The character screen should now always display the correct act and quest information

• If Real ID has been disabled for a Battle.net account, attempting to add a Real ID friend in Diablo III will now prompt the player with the following error message: "Battle.net is unable to add friends because you have Real ID disabled."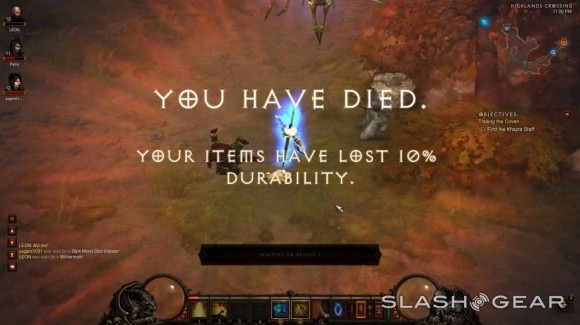 This patch also includes a massive list of changes to characters longer than the average players attention span, so head on over to Battle.net to keep fully up to date! Otherwise feel free to head down to the timeline we've got below to stay fresh on all your Diablo III needs!