Diablo 4 Leak Has Good News For Diablo 2 Fans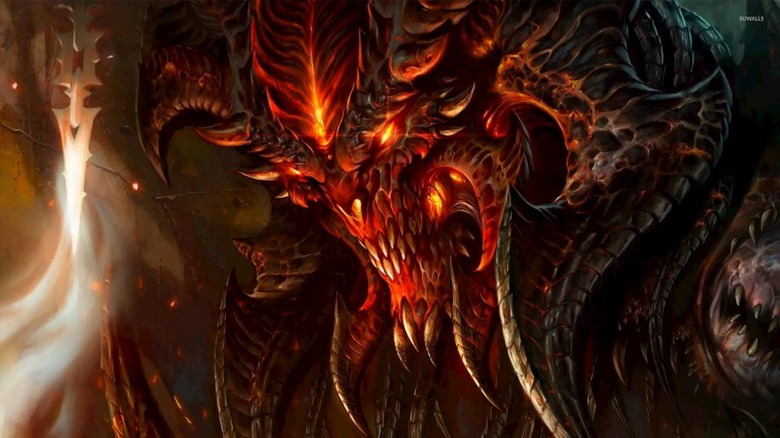 BlizzCon is set to kick off tomorrow, and Blizzard is widely expected to reveal Diablo 4 during the show. As with many expected big-name reveals, there have been a number of leaks surrounding the game, and the latest one paints an encouraging picture for those who have a soft spot for Diablo 2. It seems that Blizzard has looked to Diablo 2 for a lot of inspiration for Diablo 4, which should make a lot of franchise fans happy.
It isn't very surprising to hear that Blizzard is tapping its work with Diablo 2 when it comes to developing Diablo 4. While a lot of folks will tell you that Diablo 3 in its current state is a pretty solid game, it didn't get the warmest reception on release. A lot of that had to do with Blizzard's ill-advised real money auction house, but fans also lamented the shifting tone of the series as a whole.
According to Reddit leaker PracticalBrush12, Diablo 4 will more closely match the aesthetic of Diablo 2, with dark and gritty environments that are a fair bit more horrific than what we were treated to in Diablo 3. The leaker says that players can look forward to environments that are "infrequently laid with corpses," and locales like "cult caves surrounded by flesh," so it sounds like Blizzard is implementing a significantly darker tone with Diablo 4.
This lines up with everything I've heard about Diablo IV.

The game is shaping up well and is definitely what fans would want out of the game. Takes what people loved about D2 style, improves on D3 combat. https://t.co/5aXaQk528M

— Daniel Ahmad (@ZhugeEX) October 31, 2019
The Redditor also claims that players will be able to ride horses, though notes they're unsure of if there will be other mounts available. They say that three classes confirmed to be in the game include mage, barbarian, and druid, and that there might be PvP in the game from the very start. At the very least, four-player co-op is something that's sure to appear, so even without PvP, there will be some kind of multiplayer element, just as there were in Diablo games before this one.
This is the part where we tell you that all of these details are unconfirmed and should therefore be approached with a healthy dose of skepticism. It's worth pointing out, however, that Niko Partners analyst Daniel Ahmad published a link to this Reddit post on his Twitter account, saying that the information contained within "lines up with everything" he's heard about Diablo 4 so far.
So, still take what you read here with a grain of salt, but with Ahmad lending a bit of credibility to the leaker's claims, it becomes easier to believe that Diablo 4 will be a return to form for the series as a whole. We'll find out soon enough, as BlizzCon 2019 kicks off tomorrow and will run through Saturday.