DEXIM unveils P-Flip Foldable Power Dock for iPhone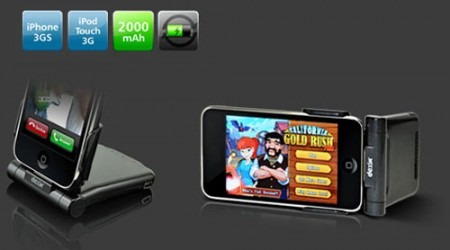 I have checked out some DEXIM products before for my iPhone and found them to work very well for keeping me juiced up on the road. The company has today announced a new line of foldable docking stations for the iPhone called the P-Flip line.
The line includes the P-Flip Foldable Power Dock, the Rechargeable Power Stand, and the 2x Foldable Power Dock. All of the devices have an internal battery to extend the run time of your handset. All of the products in the line have a 2000mAh battery and adds 8 hours of talk, 15 hours of gaming, or 80 hours of music playback.
The 2x foldable dock has a USB cable that lets you share the power from the battery with a pal. The rechargeable Power stand will be a Brookstone exclusive. Pricing and availability for the devices is unknown at this time.