Demy Digital Recipe Reader keeps recipes on hand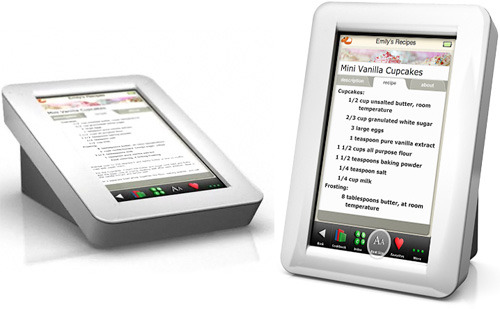 I've contemplated about getting a laptop just for my kitchen. It could be a small little netbook or something, but it would house all of the recipes we use around here and would make for easy access. The Demy Digital Recipe Reader is no laptop, but it's designed to show you your ingredients. 
The Demy Digital Recipe Reader is fairly small and has a touchscreen display for easy use. The interface looks like it belongs in the kitchen and features a recipe database for those looking for new culinary inspiration.
There is also built-in memory, so you can store 2,500 recipes. You can transfer them by means of a USB transfer. The plastic exterior is splash resistant and the device features three cooking timers, a substitutions database and a conversion tool. You can pre-order it now for $299 and it will be available by the end of the month.
[via OhGizmo!]