Dell's new laser projector offers a 100-inch 4K HDR display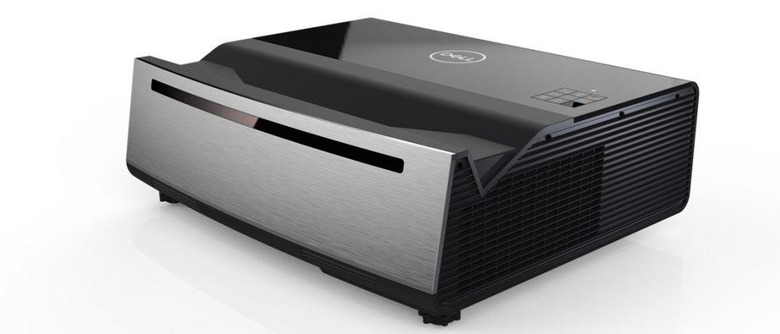 If you dream of owning an 80-inch-plus 4K television but cry out at the idea of spending $10,000 and up, Dell has a new laser projector that might be the perfect solution. Dubbed the Dell Advanced 4K Laser Projector, the device offers a whopping 100-inch 4K display with support for HDR. Add in the fact that it can be placed extremely close to a wall, as long as you have the flat surface space you're ready to go.
Dell notes that the projector is primarily meant for use in office or classroom situations, where a 100-inch display is useful for presenting to a large number of people. However, it offers several advantages that make it a perfect fit for a living room as well. Projectors often need to be placed several feet from the wall it's displaying on, but this model is ultra-short throw, meaning it needs only 4 inches of space between the wall to produce that 100-inch 4K image.
Another bonus is the simple fact that it uses a laser instead of a bulb, an expensive component that needs to be replaced every so often in other projectors. Dell promises that with eight hours of use five days a week it will have a lifespan of at least 10 years. With far less daily use in a home environment, it's easy to imagine using the projector for much longer.
Other tidbits include a 120hz refresh rate, and the ability to project content from four different inputs over a network connection. There's also Bluetooth support for wireless audio output, and a USB port for playing media directly from the device. Dell says the Advanced 4K Laser Projector will be priced at $5,999, and expects it to go on sale in the US starting on July 19th.
SOURCE Dell