Dell XPS 8000 and 9000 Core i5/i7 desktops plus CULV Inspiron 14z & 15z notebooks launch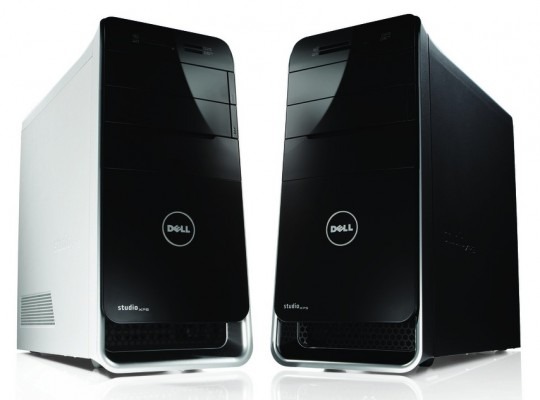 Dell have outed their latest XPS performance desktops, the
and 9000-series, based on Intel's Core i5 and Core i7 processors, together with pushing their latest
notebooks, the Inspiron
and
, out of the door.  The 8000 and 9000 desktops have optional Blu-ray drives, standard DVD burners, and start from $799.
There's also up to 16GB of RAM on offer, space for dual hard-drives and a choice of video cards from both ATI and NVIDIA.  Ports include eight USB 2.0 and an eSATA, together with a multiformat card reader, plus there's a tray up top where you can leave your PMP while its recharging.  The XPS 9000 starts from $1,999.
As for the CULV notebooks, the 14z and 15z are 14-inches and 15.6-inches respectively, and use Intel's Core 2 Duo SU9400 1.4GHz processor paired with up to 8GB of RAM and GMA X4500HD graphics.  The displays both run at 1,366 x 768 and there's up to 500GB of storage; meanwhile connectivity includes WiFi a/g/n and Bluetooth, plus a multiformat card reader, 1.3-megapixel webcam and 6-cell battery.  Prices start from $599.
Press Release:
DELL'S NEW STUDIO XPS DESKTOPS HANDLE DAUNTING CREATIVE TASKS WITH EASE

• XPS 8000 Makes Creating, Sharing Photo, Video Projects A Cinch

• Newest Intel Desktop Processors Deliver Raw Power

• Optional 3D graphics Bundle for Immersive Gaming Experience

ROUND ROCK, Texas, Sept. 8, 2009 – Because many people now live their lives online, they need computers that make it easy to create their own entertainment experiences and share them with others, whether that means building and sharing photo albums and home videos or playing computer games with people halfway around the world. Dell today launched the new Studio XPS 8000 and Studio XPS 9000 desktop computers designed for people who insist on raw power to tackle those tasks.

Gamers and multi-media enthusiasts have come to trust the performance of Dell's XPS laptops and desktops. The Studio XPS 8000 introduced worldwide today includes Intel's newest and powerful desktop processors, the Corei5 Quad Core and Core i7Quad Core, to race through the most elaborate photo files and Hi-Def video. For eye-popping realism, there are optional 3D capabilities that can deliver a truly immersive gaming experience.

The News:

• New Dell Studio XPS 8000, starting at $799, offers great performance for some of the most demanding applications like photo and video editing and computer games.

• Newest Intel Core i5 Quad Core and i7 Quad Core processors deliver raw power.

• Integrated 7.1 high-definition surround sound for theater-like experience direct from the desktop.

• Optional Blu-ray Disc and Blu-ray Disc burner so users can create the high-def DVDs.

• Optional 3D capabilities for gamers who demand realistic and stunning graphics.

Dell also announced the Studio XPS 9000 with new performance graphics options. The Studio XPS 9000 is one of Dell's most powerful and expandable entertainment desktop computers, so people can be sure that their computer will have enough memory to chronicle every digitized aspect of their lives.

Lightweight and ultra-thin Dell Inspiron laptop models were also announced today for U.S. customers. The Inspiron 14z and Inspiron 15z are each about 1-inch thin and include Intel's new low-voltage, performance processors that offer exceptional battery life. Similarly thin, the Inspiron 11z was announced last month, offering full laptop PC performance in a netbook-sized computer.

Quote:

"Some people need every bit of performance they can get from their computer," said Michael Scheschuk, director of consumer products. "The Studio XPS 8000 and Studio XPS 9000 are some of the most powerful computers we have ever offered and have the capabilities to handle the most demanding tasks of high-def video, digital imaging and 3D gaming. They are designed to provide the best experience for today's most demanding users."
Press Release:
DELL'S NEW INSPIRON 'Z' LAPTOPS PROVE BEAUTY AND BRAUN GO TOGETHER

· Inspiron 14z and 15z Pack Power in Ultra-slim Profile

· New Intel Ultra-low Voltage Processors Deliver Extended Entertainment

· Easily Personalized with Choice of Performance Configurations

ROUND ROCK, Texas, Sept. 8, 2009 – Dell is taking thin to an all-new level in performance with its new "Z" model laptops. Featuring thinner, lighter bodies, longer-lasting "power-sipping" batteries, and incredible performance, the new Inspiron 14z and 15z feature stunning wide-screen displays, ample hard-drive storage and a range of entertainment options, making it easy to take your fun and entertainment on the road for extended periods of time.

The thinnest-ever models of Dell's most popular consumer laptop PC, the new Inspiron 14z and 15z are about 1-inch thin, slim enough to fit in any bag, and feature the newest Intel Core Solo 2 ultra-low voltage processors for extended entertainment capability and Web surfing. They join the recently introduced Inspiron 11z, rounding out the Inspiron "z" portfolio of thin, "power-sipping" laptops.

The News:

· Thin Is In (about 1-inch tall) Dell consumer laptops with 16:9 displays in 14-inch (14z) and 15.6-inch (15z) models.

· Choice of Intel Pentium Core 2 Solo ultra-low voltage, Core 2 and Core 2 duo processors.

· Up to 500 GB, 7,200 RPM hard drives; Included DVD drive;

· Up to 8GB DDR3, 1,066MHz.

· Standard Wi-Fi and optional Mobile Broadband.

· Choice of 4-cell (4-hour) or 6-cell (8-hour) batteries .

· Express Charge (4- and 6-cell batteries) are 80% recharged in 60 minutes.

The Inspiron 14z and 15z are available in black or cherry red and can be purchased from $599 in retail stores and at www.dell.com beginning today, with worldwide availability in the coming weeks.

Also today, Dell announced the new Studio XPS 8000 desktop PC, with worldwide availability. Building upon the XPS performance legacy, the Studio XPS 8000 includes a choice of Intel's newest, most powerful desktop processors, the Core i5 Quad Core and Core i7 Quad Core, and a 3D graphics bundle providing the most immersive gaming experience.

Quotes:

"People who want mobility, value, great performance and easy Internet access have made Inspiron our most popular consumer brand," said Glen Robson, general manager Dell consumer laptops. "These new, thin, lighter-weight systems offer all-day performance with the latest Intel power-saving processors."